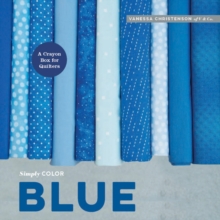 Simply Color: Blue: A Crayon Box for Quilters
Hardback
Description
This is a pattern and inspiration book for the confident beginner through to the intermediate sewist who appreciates simple piecing, big colour inspiration, and fresh new projects.At is simplest, each book is an exploration of colour.
By understanding the fundamentals of colourwork and successful colour combinations, the first part of the book celebrates blue.
The second part of the book features 6 patchwork projects (4 quilts and 2 small projects) that showcase that single colour through a series of one or two coloured projects.
Simple piecing appeals to a broad range of quilters, from those looking for a quick project through to an intermediate of adventurous beginner.