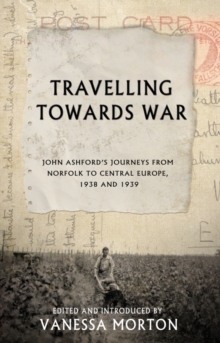 Travelling Towards War : John Ashford's journeys from Norfolk to Central Europe, 1938 and 1939
Paperback
Description
Travelling Towards War provides a small window on events in pre-war central Europe.
It focuses on the journal and recently discovered correspondence of John Ashford - a Norfolk Quaker and fruit-grower - who made two short but memorable journeys in 1938 and 1939 to visit isolated groups of German, Austrian and Czech Quakers and the Quaker international teams besieged with people desperate to escape persecution.
John travelled coolly across frontiers as the likelihood of war grew.
In early 1938, he was in Vienna as Austria tried to stave off annexation, and in Prague as tensions between Czechoslovakia and Germany mounted.
In 1939, he was in Berlin only months after the Munich crisis and the Kristallnacht pogrom against the Jews.
He was in Prague on March 15th, 1939, when the Nazis marched into the city, among friends at high risk of arrest, helping last ditch attempts to get refugees out to safety.
Vanessa Morton's extensive research has unravelled the identities of many of the people John Ashford was visiting, how they were responding to the tensions and injustices around them, and what happened to them when war began.
It is an intriguing story of little known circumstances and groups: of a remarkable traveller, and of tiny groups of Quakers, some reacting stoically, some fearfully, others courageously, to accelerating events.
Information
Format: Paperback
Pages: 160 pages
Publisher: Troubador Publishing
Publication Date: 13/12/2011
ISBN: 9781848767713
Free Home Delivery
on all orders
Pick up orders
from local bookshops