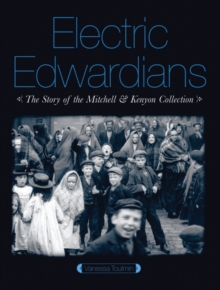 Electric Edwardians: The Films of Mitchell and Kenyon
Paperback / softback
Description
Electric Edwardians presents a stunning visual record of the films of Sagar Mitchell and James Kenyon, combined with an illuminating discussion of the films and the social context of their production by Vanessa Toulmin, a leading authority on the collection.
Advertised as 'local films for local people', the films of Mitchell and Kenyon were commissioned by travelling exhibitors in the early twentieth century for screening in town halls, village fetes and local fairs.
Audiences paid to see their neighbours, families and themselves on the screen, glimpsed at work and at play.
This attractive volume includes over 200 illustrations drawn from the Mitchell and Kenyon collection, as well as contemporary posters and handbills from the National Fairground Archive.
Vanessa Toulmin's lucid accompanying text provides an introduction to the work of the M&K company, the showmen who commissioned their films, and their place in early British cinema.
Focusing on major themes, such as Leisure and Recreation, Sport, Industry, the Boer War and the City, Toulmin explores how the M&K collection deepens our understanding of these key aspects of Edwardian life.
Free Home Delivery
on all orders
Pick up orders
from local bookshops