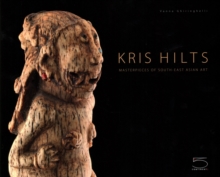 Kris Hilts : Masterpieces of South-East Asian Art
Hardback
Description
This book takes us into the mysterious world of the hilts of the traditional weapons of Indonesia and Malaysia: the kris, which embodies a bridge between the visible and invisible worlds.
They are art objects that represent abstract, human, divine, and demoniac figures.
Masterpieces of sculpture and engraving by the archipelago's master-craftsmen, here they are presented in all their splendour.
The hilts of kris have long been collectors' items, perhaps more so than the kris itself, a dagger with a curved blade.
This book, the catalogue of a private collection, introduces the cultural world of kris hilts, once known only to locals and brought to wider attention by the Dutch when they occupied what was then known as the East Indies.
Kris are objects of great beauty-carved, chiselled, or incised by artist-craftsmen who bring a great sense of aesthetics and proportion to their work, as well as a deep knowledge of the symbolism and traditions of their lands. Java, Sumatra, Bali, Madura, Sulawesi and Malaysia: each island has its own type of hilt, enabling scholars and collectors to establish the geographic provenance of every kris and appreciate the various local traditions, symbolism, and magic that contributed to its manufacture.
These small sculptures range from extreme abstraction to anthropomorphic figures, geometric patterns to images of the plant and animal worlds.
They are made by expert Malay craftsmen from materials such as wood, fossil ivory, gold, and whalebone.
Information
Format: Hardback
Pages: 159 pages
Publisher: Five Continents Editions
Publication Date: 31/01/2019
Category: Archaeology by period / region
ISBN: 9788874395859
Free Home Delivery
on all orders
Pick up orders
from local bookshops