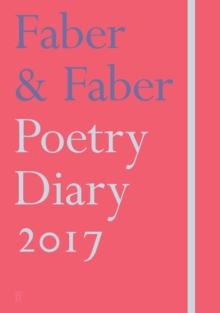 Faber & Faber Poetry Diary 2017 : Coral
Hardback
Description
The Faber poetry list, originally founded in the 1920s, was shaped by the taste of T.S.
Eliot, who was its guiding light for nearly forty years.
Since the sixties, each passing decade has seen the list grow with the addition of poets who were arguably the finest of their generation.
In recent years the creation of the Poet-to-Poet series has further broadened the scope of Faber poetry to include the work of great poets from the past, selected and introduced by the contemporary poets they have inspired.The 2017 edition includes poems by:Simon Armitage * William Blake * Burns Robert * Lord Byron * Thomas Campion * John Clare * Samuel Taylor Coleridge * Wendy Cope * Emily Dickinson * John Donne * T.S.
Eliot * Lavinia Greenlaw * David Harsent * Seamus Heaney * George Herbert * Robert Herrick * Gerard Manley Hopkins * A.E.
Housman * Ted Hughes * Emma Jones * John Keats * Philip Larkin * Toby Martinez De Las Rivas * Marianne Moore * Andrew Motion * Paul Muldoon * Daljit Nagra * Wilfred Owen * Don Paterson * Tom Paulin * Sylvia Plath * Christopher Reid * William Shakespeare * Jo Shapcott * Percy Bysshe Shelley * Alfred Lord Tennyson * Edward Thomas * William Wordsworth * W.B.
Yeats
Free Home Delivery
on all orders
Pick up orders
from local bookshops