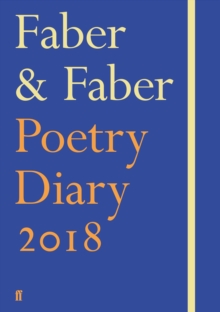 Faber & Faber Poetry Diary 2018 : Royal Blue
Hardback
Description
The Faber poetry list, originally founded in the 1920s, was shaped by the taste of T.
S. Eliot who was its guiding light for nearly forty years.
Since the sixties, each passing decade has seen the list grow with the addition of poets who were arguably the finest of their generation.
In recent years the creation of the Poet to Poet series has further broadened the scope of Faber poetry by including the work of great poets from the past selected and introduced by the contemporary poets they have inspired. Samuel Beckett * Emily Berry * William Blake * Emily Bronte * Rupert Brooke * Lord Byron * John Clare * Julia Copus * Walter de la Mare * Carol Ann Duffy *Douglas Dunn * T.S.
Eliot * Seamus Heaney * Thomas Hood * Gerard Manley Hopkins *A.E.
Housman *Ted Hughes * Ben Jonson * John Keats * Philip Larkin * Lachlan Mackinnon * Louis MacNeice * Dorothy Molloy * Bernard O'Donoghue * Sylvia Plath * Maurice Riordan *Sam Riviere * William Shakespeare * Percy Bysshe Shelley * Stevie Smith * Stephen Spender * Wislawa Szymborska * Alfred, Lord Tennyson * Edward Thomas * Jack Underwood * Hugo Williams * William Wordsworth * W.B.
Yeats
Free Home Delivery
on all orders
Pick up orders
from local bookshops