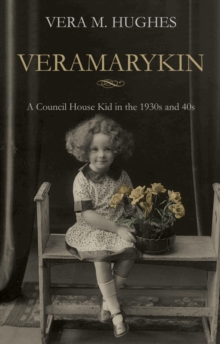 Veramarykin : A council house kid in the 1930s and 40s
Paperback / softback
Description
Veramarykin is the story of a child in the 1930s and 40s, which contains Vera M Hughes' lively memories of family life in the London County Council's new housing estate in Downham near Bromley - where parents from areas of overcrowding brought up their families in good times and bad. Vera relates, with a wealth of anecdotes and family photos, her progression through childhood, adolescence and the beginning of adulthood, when she left school in 1945 to take her place in the world as a wage-earner. The story begins in the early 1930s with childhood games, dollies' tea parties, the dreaded dentist, tales of a dangerous fish and a murderous budgie and a brother's teasing.
The annual family seaside holidays were eagerly anticipated and enjoyed, and very little of the world outside her home impinged on her childhood.
However life changed in 1938 with a move to larger accommodation in another council estate, coinciding with a change of school and resulting in the loss of familiar ways and friends. Evacuation at the start of the Second World War in 1939 brought another upheaval until Vera's return home - just in time for the Blitz - re-established family life and stability.
The trials of life in wartime had simply to be accepted and endured, and although comparatively unscathed by bombs, the devastating effects of doodlebugs and rockets made themselves felt. Close involvement with the Scout and Guide movements in early adolescence provided lifelong friends whose subsequent wartime service in the Forces left a gap that was filled with correspondence until their safe return.
Information
Format: Paperback / softback
Pages: 208 pages
Publisher: Troubador Publishing
Publication Date: 05/12/2013
Category: Biography: general
ISBN: 9781780885346
Free Home Delivery
on all orders
Pick up orders
from local bookshops