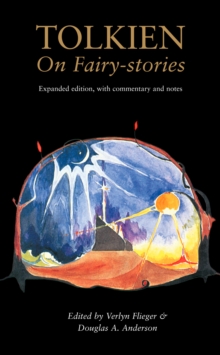 Tolkien On Fairy-Stories
Paperback
Description
A new expanded edition of Tolkien's most famous, and most important essay, which defined his conception of fantasy as a literary form, and which led to the writing of The Lord of the Rings.
Accompanied by a critical study of the history and writing of the text. J.R.R. Tolkien's "On Fairy-stories" is his most-studied and most-quoted essay, an exemplary personal statement of his views on the role of imagination in literature, and an intellectual tour de force vital for understanding Tolkien's achievement in the writing of The Lord of the Rings. "On Fairy-stories" comprises about 18,000 words.
What is little-known is that when Tolkien expanded the essay in 1943, he wrote many more pages of his views that were originally condensed into or cut from the published version.
An estimate is difficult, but these unpublished passages perhaps amount to half again as much writing as the essay itself.
These passages contain important elaborations of his views on other writers, and their publication represents a significant addition to Tolkien studies.
Included in this new critical study of the work are: * An introductory essay setting the stage for Tolkien's 1939 lecture (the origin of the essay) and placing it within a historical context.* A history of the writing of 'On Fairy-stories', beginning with coverage of the original lecture as delivered, and continuing through to first publication in 1947.* The essay proper as published in corrected form in Tree and Leaf (1964).* Commentary on the allusions in the text, and notes about the revisions Tolkien made to the text as published in Tree and Leaf.* Important material not included in the essay as published, with commentary by the editors. Contained within "On Fairy-stories" are the roots of the tree of tales that bore such glittering fruit in Tolkien's published and unpublished work.
Here, at last, Flieger and Anderson reveal through literary archaeology the extraordinary genesis of this seminal work and discuss, in their engaging commentary, how what Tolkien discovered during the writing of the essay would shape his writing for the rest of his life.
Information
Format: Paperback
Pages: 320 pages, Index
Publisher: HarperCollins Publishers
Publication Date: 14/08/2014
Category: Literary companions
ISBN: 9780007582914
Free Home Delivery
on all orders
Pick up orders
from local bookshops
Reviews
Showing 1 - 1 of 1 reviews.
Review by Lori_Eshleman
27/08/2015
I read J.R.R. Tolkien's essay "On Fairy-Stories" in preparation for teaching a class on Tolkien. Originally written as a lecture in 1939 and first published in 1945, this essay gives a sense for why Tolkien valued fantasy, fairy-story, myth and legend. So, if you've ever wondered what was behind Tolkien's fantasy fiction, this is the book for you! In it Tolkien argues that fairy-stories and fantasy are not just for children--in fact, adults need them more, and get more out of them. He also objects to the notion that fairy-stories are at the bottom rung of evolution from myth to heroic legend to fairy-story. For him, the world of myth and legend and fantasy is a "cauldron" that has been bubbling for centuries, with bits added into the stew over time. He himself draws from this cauldron--and adds to it--in his own fantasy-writing. What does this type of fantasy literature have to offer? His answer is: escape from some of the ugliness and violence of this world; consolation for some of our profoundest desires, such as the desire to communicate with other living creatures, or the desire to escape death; the experience of "eucatastrophe" ("the good catastrophe")--or "the sudden joyous 'turn'" of events; and the resultant feelings of joy. And indeed, as I reread The Lord of the Rings, I find myself experiencing some of these very feelings. It is a great wonder to talk with trees and elves. There is a great sadness to mortality--and loss of things past. And, in the face of great threat, there is a sense of the joy of deliverance. Remember, Tolkien lived and wrote through two World Wars, and had a rightful horror of "the ugliness of our works, and of their evil" (On Fairy-Stories). His fiction is steeped in the sense of cosmic battle between forces of good and evil, forces of life and forces of destruction. His works, fantasy though they are, confront some of the most profound questions of his generation--and continue to speak to ours.