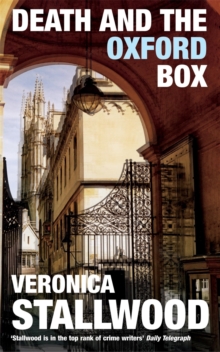 Death and the Oxford Box
Paperback
Description
Dawn on a cold February morning and a mist hangs over Oxford, shrouding spires and domes.
Feisty novelist Kate Ivory enjoys her early morning run with the (mainly) women's jogging group.
It gets her away from her word processor and she hears all the local gossip on the hoof.
This morning, one of the women complains to Kate that her husband has walked out on her, taking with him the valuable antique enamel mourning-boxes given to her by her grandmother who - horrors - is coming to visit.
The group plans to nick the boxes back again. How could they guess that their amateurish raid would provide the cover for a more sinister crime?
Information
Format: Paperback
Pages: 288 pages
Publisher: Headline Publishing Group
Publication Date: 01/03/1994
Category: Crime & mystery
ISBN: 9780747244783
Free Home Delivery
on all orders
Pick up orders
from local bookshops
Reviews
Showing 1 - 2 of 2 reviews.
Review by bcquinnsmom
16/06/2015
This is the series opener featuring novelist Kate Ivory, who writes historical novels. I had been planning to read this for a couple of years now, but it never seemed the right time. So now that I've finished the first, the second one is beckoning...meaning that I will most likely finish the series as well.This one is not a police procedural, but more like an intelligent cozy, but this one is a bit different. I would recommend it if you like cozies, or British mystery in general.The plot; no spoilers:Kate Ivory runs every morning with a small group of friends. As the book opens, as she's running, she overhears one of them, Rose, moaning about the fact that her newly-separated husband has taken half of her enamel box collection, given to her by her grandmother as a wedding gift. He felt that since he got half of everything, well, half of these boxes (quite valuable, as it turns out) should be his too. But Rose needs them back; now that she's single, she needs to be able to support herself, and all she knows how to do is knit. She wants to open a knitting business, and needs to ask her Gran for money to get it started. But if Gran sees that the boxes are gone, well, Rose thinks she'll say no. So Kate comes up with a plan to get the boxes back: the group will steal them from Rose's ex, long enough for them to be at Rose's home until her Grandmother leaves. But the day after the "crime," as the police are knocking on Kate's door, asking her all kinds of questions, she begins to realize that this isn't about any boxes; there's something else more criminal involved. Someone, it turns out, has been killed -- and Kate wants to find out who the murderer was.This one was fun; I like Kate's character and the mystery was okay. The author left the reader several red herrings and several suspects from which to choose so it wasn't too obvious. Pick it up for a couple of hours' reading time & enjoy.
Review by bsquaredinoz
16/06/2015
I do understand that there is a genre of mysteries in which implausible things happen to ordinary people and crimes get solved without the intercession of professional crime solvers of any sort. I enjoy many of these books. However, this one with its tortuous plot that relies on readers having their own stop watch and keeping track of approximately 372 changes of tracksuit among the cast of characters isn't one those I enjoyed.