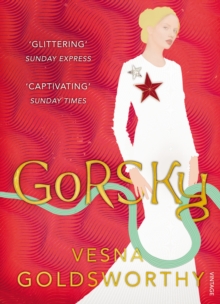 Description
Longlisted for the Baileys Women's Prize for Fiction'Captivating' Sunday Times'Glittering' Sunday ExpressLondon dances to the tune of Gorsky's billions.The most enigmatic of oligarchs, Gorsky desires and gets the best of everything and now he has his sights set on Natalia.
That she is already married is an inconvenient detail.
Nick works in a shabby-chic bookshop. When Gorsky approaches him with the commission of a lifetime, Nick suddenly gains access to the world of the wealthy and the beautiful.
But this privilege comes at a price and Nick finds his new life suddenly fraught with danger...
Information
Format: Paperback
Pages: 288 pages
Publisher: Vintage Publishing
Publication Date: 03/09/2015
ISBN: 9781784700706
Free Home Delivery
on all orders
Pick up orders
from local bookshops
Reviews
Showing 1 - 1 of 1 reviews.
Review by Eyejaybee
27/01/2016
When I read Emily St John Mandel's 'Station Eleven' early on in the year (I think it may have been back in February), I was worried that the rest of the year might be a literary anticlimax, and that I wouldn't encounter anything else anywhere near as good. Of course, at that point I hadn't read Mandel's own 'Last Night in Montreal' or William Boyd's 'Sweet Caress', and now Vesna Goldsworthy's 'Gorsky' has added some autumnal glory to the year's reading.While a marvellous novel in its own right, 'Gorsky' is also a glittering homage to 'The Great Gatsby'. Goldsworthy might not quite ascend to Fitzgerald's effortlessly poetic narrative [well, who could? I first read 'The Great Gatsby' as part of my A Level English course and even as am emotionally callow Leicestershire lad it was immediately apparent that Fitzgerald's prose was infinitely more poetic than even the best of D H Lawrence's verse, which formed another part of the syllabus] but she does often come close. A laudable achievement for any writer, this is altogether more remarkable for Ms Goldsworthy as English is, I believe, her third language.Gatsby's 1920s dazzling New York and New Jersey is replaced by a twenty first century London peopled by east European émigrés, ranging from Russian multi-millionaires left feeling humble alongside their neighbouring billionaires, Bulgarian former Olympic gymnastics medallists and impoverished Serbians. Nick Carraway has morphed into Nikola "Nick" Kimovic, a Serbian who escaped the troubles of his homeland in the 1990s and wound up in London, working for a pittance in Fynch's antiquarian bookshop in the back streets of Chelsea. Here he first encounters the dazzlingly beautiful Natalia Summerscale who comes in looking for works on Russian art.Shortly afterwards Ramon Borisovich Gorsky comes into Fynch's and deposits a huge cheque with a request that the shop track down remarkable books to populate the library he is including in the new mansion he is having built in Chelsea, Gorsky is the richest of the superrich Russians who have made London their playground, and Nick gradually fills us in about some of his exotic history. Like Gatsby, no-one really knows where Gorsky came from. He was suddenly there, with his billions behind him, owning properties all around the world and throwing the most amazing parties, attended by society magazine 'A listers' from all over the world (though not always by Gorsky himself). Like Jay Gatsby, Gorsky is a driven man, one who has achieved limitless commercial success of dubious moral provenance, but one for whom something remains missing, seemingly unattainable despite the wealth and power at his behest. He is in love, and desperate for fulfilment. Goldsworthy's plotting is immaculate, and the books fairly fizzes along, supported by beautiful descriptions of London: the city is almost a character in its own right (even though it is a London with which I am wholly unfamiliar myself!). She seamlessly mingles a little bit of everything: politics, murder, love, art and social observation, though the melange is managed impeccably.