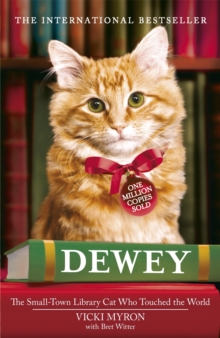 Dewey : The Small-town Library-cat Who Touched the World
Paperback
Description
On the coldest morning of the year, Vicki Myron found a tiny, bedraggled kitten almost frozen to death in the night drop box of the library where she worked, and her life -- and the town of Spencer, Iowa -- would never be the same.Vicki was a single mother who had survived the loss of her family farm and an alcoholic, abusive husband.
But her biggest challenge as the new head librarian in Spencer was to raise the spirits of a small, out-of-the-way town mired deep in the farm crisis of the 1980s.Dewey, as the townspeople named the kitten, quickly grew into a strutting, adorable library cat whose antics kept patrons in stitches, and whose sixth sense about those in need created hundreds of deep and loving friendships.
As his fame grew, people drove hundreds of miles to meet Dewey, and people all over the world fell in love with him.Through it all, Dewey remained a loyal companion, a beacon of hope not just for Vicki, but for the entire town of Spencer as it slowly, steadily pulled itself up from the worst financial crisis in its long history. Dewey won hearts and proved to everyone he encountered that unconditional love comes in many forms.
Information
Format: Paperback
Pages: 320 pages, B&W Integrated
Publisher: Hodder & Stoughton General Division
Publication Date: 01/05/2009
Category: Memoirs
ISBN: 9780340953952
Free Home Delivery
on all orders
Pick up orders
from local bookshops
Reviews
Showing 1 - 5 of 8 reviews.
Previous | Next
Review by seldombites
16/06/2015
This is, in essence, a biography of a cat. Not just any cat, of course, but the most famous library cat in the world. Anyone who has ever befriended or enslaved themselves to a cat will relate to the antics of Dewey. The author tells us that he was charismatic and caring, and one only has to look into his eyes (pictured on the cover) to know that this is no mere exaggeration. The love Vicki feels for this amazing cat (dare I call him a hero?) is evident in every word, and by the end of the book you will love him too. You'll laugh, you'll groan and you'll weep, but one thing you will not do is forget this book, or it's subject - and what more can author hope for?
I think there are probably a lot of Deweys out there, they just don't meet so many people. Of all the cats I've had, my orange tabby Vaj shared many of Dewey's traits, and there isn't a day that goes by that I don't think of him. When a cat like Dewey can touch so many people, maybe we should think about why that is. All I know is, my cats have gotten me through a lot of tough spots, and they are way cheaper than therapists. Dewey seemed to have it all -- good looks and a talent to be endearing. May we all be so lucky to know such an animal at least once in our lives.Having said that, as a book there just isn't enough here to justify the length. And it's just a bit too precious. It's just too feel-good and careful not to be political at all. If you're going to mention hard economic times but not really discuss causes and such, it's custom-made for an American society that continually votes against its own self-interests. Sort of, let's not think too hard here about it, let's just accept it, and let Dewey help get us through the lean times. That kind of bothered me, and made me suspect that the publisher dictated what sort of book we'd get about Dewey. Sorry, Dewey, you've been used.
Review by thebookstack
16/06/2015
this book esecaly touched my heart because i live in spencer and to have been able to be with this cat it was so cool
Review by yann2
16/06/2015
Finished reading 'Dewey' recently, and it's a nice book. Not only for cat lovers either. ;)Vicki did a great job telling not only the story of Dewey, the library cat, but of her own life, her family's and the town of Spencer, Iowa, where they all lived. Really enjoyed it, was touched by the sad ending when Dewey passes away, hard to anyone who cared about him.Thanks Vicki, nice read!
Review by TLHelen
16/06/2015
One cold morning, Dewey is found, frozen, in the after hours return box of a library. The librarian, Vicki Myron, takes it into her care and attempts to make it the library cat. After a long persistent fight to make him a library cat, Dewey officially becomes a library cat. Dewey was a cat who liked humans and would often sit in people laps. This novel describes the life of Dewey in Vick Myron's eyes as well as telling the story of Myron herself. It is worth reading as it makes the reader want a cat and it demonstrates the way in which the cat helped support a whole town. It is definitely a book for animal lovers as well as people who don't like animals.
Also by Vicki Myron