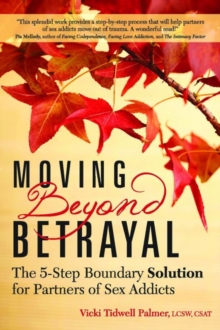 Moving Beyond Betrayal : The 5-Step Boundary Solution for Partners of Sex Addicts
Paperback / softback
Description
Partners experience dire consequences as a result of being in a relationship with someone suffering from any of the many manifestations of addiction and especially compulsive sexual behaviour.
They are at risk of personal harm, being affected not only by the emotional, financial and relational consequences of addiction, but, also, and especially in the case of compulsive sexual behaviour, by deep, personal betrayal and potential exposure to dangerous sexually transmitted diseases.
Partners must be armed with information and tools for self-care and self-protection as they navigate through the difficult and painful process of discovery, disclosure and beyond.
In other words, they need boundaries. This is the first book specifically for partners affected by addictive behaviour that addresses, in detail, how to identify, create and maintain boundaries as a vital component of self-care and an indispensable tool for healing and growth. The 5-Step Boundary Solution guides partners to: define the current problem(s); identify the needs that aren't being met; locate their power; take action where they have the power to effect change and evaluate the results to determine if their goal has been accomplished or further boundary work is needed.
All aspects of effective boundary work are addressed, including, and especially, what to do when boundaries are violated.
Through working the 5-Step Boundary Solution partners will * reduce the chaos inherent in relationships affected by sex addiction* feel more empowered and in control of their lives* discover whether or not their relationship with the addict is salvageable.
Information
Format: Paperback / softback
Pages: 200 pages
Publisher: Central Recovery Press
Publication Date: 30/05/2016
Category: Addiction & therapy
ISBN: 9781942094142
Free Home Delivery
on all orders
Pick up orders
from local bookshops