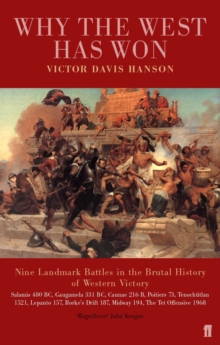 Why the West has Won
Paperback
Description
This is a brilliant history of the rise to dominance of the West, exploring the links between cultural values and military success.
Instead of weighing up the West through its cultural and literary accomplishments, Hanson engages with the much starker record of the Western battlefield.
In place of The Great Books, he studies The Great Battles, and offers graphic representations of nine representative clashes between West and non-West.
Hanson writes uncommonly well about battle, and has an uncanny ability to evoke the chaos and terror of warfare, so crystallising his argument into records of a few hours of intense combat.Hanson argues that the West has won not just because of technology and military might, but because of its focus on individualism, democratic political structures, and scientific rationalism.
However this is no mere Eurocentric account of the steady millennia-long rise of Western power.
Rather, it is an explanation of why the West finds itself now militarily unmatched, its values spreading around the globe - sometimes with devastating effects on local cultures which have at times adopted the worst of what European traditions have offered or imposed.
Information
Format: Paperback
Pages: 512 pages
Publisher: Faber & Faber
Publication Date: 04/11/2002
Category: General & world history
ISBN: 9780571216406
Free Home Delivery
on all orders
Pick up orders
from local bookshops
Reviews
Showing 1 - 2 of 2 reviews.
Review by jcbrunner
16/06/2015
Hanson's domain is Greek warfare. Whenever he strays from it, be it modern politics or, in this case, general military history, his bias limits the quality of his research. He certainly can write and his books are pleasant reads. But his methodology (and thus his results) are deeply flawed. Such "analysis" by Hanson's political friends has resulted in enough carnage in East and West. Readers beware.Historians have identified ocean-going ships and guns as the inventions that catapulted the West to dominance. This parsimony does not suit Hanson who likes to see (and finds) a cultural dominance. His catalogue of Western assets (paradigms of freedom, decisive shock battle, civic militarism, technology, capitalism, individualism, civilian audit and open dissent) and his nine data points (spanning more than 2.000 years) only show his bias. Since when can one speak of Greek and Roman capitalists? How did the galley slaves at Lepanto express their freedom of speech?For each and every example he lists, there exists a counter example -- both for supposed Westerness and his cases. His beloved Greeks were subjugated by Macedon barbarians. The Late Roman Westerners were crushed by Eastern hordes. Byzantium succumbed to the very civilized Ottoman Empire. The Japanese defeated the Russians in 1905. The Vietnamese whipped the French and the USA. When his thesis does not hold, Hanson retreats to the formulation that defeat only happened at the fringes of Western empires. What about the barbarians in Rome? The muslims in Spain? The Ottomans in Hungary? They don't suit Hanson's cultural supremacy idea and thus are not discussed. "Git there fastest with the mostest" and "firepower wins" remain better explanations. Read it for intellectual amusement.
Review by JayLivernois
16/06/2015
Brilliant history; the best military historian writing.