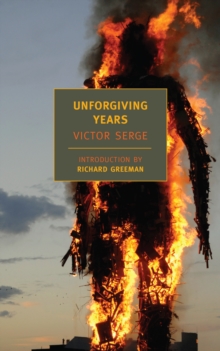 Unforgiving Years
Paperback
Information
Format: Paperback
Pages: 368 pages
Publisher: The New York Review of Books, Inc
Publication Date: 28/12/2007
ISBN: 9781590172476
Free Home Delivery
on all orders
Pick up orders
from local bookshops
Reviews
Showing 1 - 3 of 3 reviews.
Review by mckall08
16/06/2015
Unforgiving Years is certainly not summer reading. With elements of Solzhenitsyn and John Le Carre (with a little romance), it isn't War and Peace either. I picked it up at the Andover [MA] Public Library on spec. not thinking there was much chance I'd get through it. BTW, it's a paperback with rather small writing for its 341 pages. It's a spy novel spanning the Second World War and beyond. It details the ambivalence, deceit, and futility of it all.
Review by timjones
16/06/2015
This novel, set among disillusioned Soviet agents before, during and after World War II, reminded me in many ways of Boris Pasternak's Doctor Zhivago. It has Zhivago's strengths: depth of character study, memorable set pieces, delicate painting-in of the political background. It also has that novel's weaknesses: choppy, episodic, too many long sections in which nothing much happens.Yet there are some truly memorable scenes here which make it worth persisting through the rough patches, especially the portrayals of Leningrad under siege, and of some disillusioned agents' attempts to escape history in Mexico. Recommended.
Review by William345
16/06/2015
An elegant literary thriller. It's 1937 and D is an operative in the Soviet security services who, along with Nadine, his lover and fellow agent, is stationed in Paris. D, who poses as an antiques dealer, is appalled by the slaughter of his friends during Stalin's show trials (see Robert Conquest's <i>The Great Terror</i>). He sends his letter of resignation prematurely to his superior, and then he and Nadine must run. In a drab hotel on Paris's outskirts they keep Brownings on the bedside tables covered with silk handkerchiefs, ready for use. The nosy concierge, Gobfin, is an effete stool pigeon right out of Simenon who scares the living piss out of our heroes, who continue to run. There can be little question that Serge's model for the first section--entitled "The Secret Agent"--is Conrad. There are touches of Simenon's influence, too. <br/><br/>The second part, "The Flame Beneath the Snow," focuses on the story of Daria, another of D's Paris operatives. She's just back from bleakest Kazakstan where she was been made to pay for her blameless association with D by years of work with impoverished Muslims. It's 1943-44. We join Daria in the dead of winter descending into besieged Leningrad aboard a flak-riddled transport plane. Daria strikes us at first as a hypocrite, mouthing the absurd Soviet platitudes. In fact, although I always try to maintain objectivity, I'm afraid I weakened here and began to hate her a little. That's how good the writing is. She composes journals so heavily self-censored that they're little more than descriptions of the rain. For no names, no specifics about her many clandestine missions can ever be set to paper. But she's a different person in private. After D and Paris her heart is no longer in the revolution. Once in Leningrad (one million Red Army soldiers and 643,000 civilians killed) she sleeps — how can she not! — with the athletically slim young Klimentii, a decorated soldier. Daria is assigned a desk job under Captain Potapov, whose long Dostoyevskian speech is a wonder of tortuous ratiocination. <br/><blockquote>So we find ourselves at a disadvantage, half beaten, yet doubly invincible since we cannot be beaten further without succumbing, and it is absolutely impossible for us to succumb.... ?My guess is that the enemy deliberately put off the conquest of this position [Leningrad], when he could quite easily have taken it. He wanted to choose his moment, ensure his dominance over a hinterland, seize a great and serviceable port and not an isolated city, requiring to be fed, however little... It was a sensible decision but that moment has passed, never to return. In strategy as in life, lost opportunities are lost for good. The single factor of action with an overwhelming probability of disobedience is time, which is an admirable factor of inaction... (p. 132)</blockquote><br/>A lovely taste of the 19th century Russian novel here, I thought. Of course, Hitler's plan all along was to destroy Leningrad, to leave no inhabitant alive for the very reason Potapov cites. Then Daria is assigned to work with six soldiers ordered to crawl across the frozen Neva, behind enemy lines, and capture one or more Germans for questioning. <br/><br/>Part three — "Brigitte, Lightning, Lilacs" — is set in early April 1945 in flattened Berlin. The Allies are perhaps a week away from occupying the city. We begin in an air-raid shelter. Here is Brigitte, reduced to a tragic existence on the edge of madness, and Minus Two, a street-wise, prosthesis-adorned veteran. There are descriptions of Berlin streetscapes here that will curl your hair, or straighten it, depending. The overwhelming sense of loss, of destitution I can only hint at. This is the section of insanity. Many buildings have fallen on civilians which now reek of their contents. Every night the streets are destroyed but in the morning women and youngsters come out with their crude brooms to sweep up a semblance of the street grid. When the writing dips into the thoughts of Brigitte we are adrift, unmoored, grasping at figments. <br/><blockquote>Brigitte's eyes opened again, her hands sank to rest on her knees, her shoulders drooped forward as though with lassitude. A stealthy tremor was starting up at the base of her being, like the buzzing of malevolent insects in the gloom, like the approach of a solitary bomber in the sky. It was only the approach of the nameless terror, senseless, bottomless, lightless, lifeless and deathless, unspeakable, unendurable, ungraspable, imponderable; a wave rising from the very depths of darkness... Brigitte was tearing something to pieces, trying to rip the smallest shreds between sore fingers until her nails were tearing at one another. What more to destroy, how to sleep, where to disappear? She began reeling about the narrow room in short, crazed lunges. (p. 206) </blockquote><br/>Brigitte may make love to a Wehrmacht soldier, Günther, who brings her the surviving bits of her fiancé's letters. It's hard to know, since by this point everything has become so dreamlike. Minus Two combs the lethal streets at night — amid groups of armed rouges, official and otherwise — to see what he can scrounge, for much can be traded on the black market for food. Then the section shifts to a battlefield surgery behind the ever contracting German lines. Erna Laub's career as a nurse is itemized by way of a dossier review. She's not very good at what she does. In fact, she's terrible at it. <br/><br/>In part four, "Journey's End," we return to Daria, now in flight. She is not entirely sure she is not followed. Much of what she goes through here smacks of PTSD. Daria takes ship, moves through American heartland, describing an arc from Brooklyn to the mid-west and south to Mexico. (Where Serge himself made his final home, where he wrote this novel and <i>Comrade Tulayev</i> as well as his revolutionary memoirs, knowing they would not be published in his lifetime. That, my friends, is commitment.) Daria joins D and Nadine hidden away in a backwater under aliases. There's an overwrought, turgid quality to the writing in thIs part. Meaning often eluded me. I don't blame the translator since he's just given us 250 beautiful pages. I think the abstraction probably exists in the original French (I'd be delighted to hear from other GR friends with an opinion). Either Serge did not have time to revise this last section as much as he wanted to do, or he felt this was appropriate language for Daria's state of mind. Needless to say, I believe it was the former. Even with this stylistic quibble, however, I give the novel five stars and ardently recommended it. (PS <i>Unforgiving Years</i> would make a fantastic movie.)<br/>