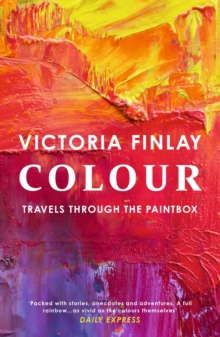 Colour : Travels Through the Paintbox
Paperback
Description
Part travelogue, part narrative history, Colour unlocks the history of the colours of the rainbow, and reveals how paints came to be invented, discovered, traded and used.
This remarkable and beautifully written book remembers a time when red paint was really the colour of blood, when orange was the poison pigment, blue as expensive as gold, and yellow made from the urine of cows force-fed with mangoes.
It looks at how green was carried by yaks along the silk road, and how an entire nation was founded on the colour purple.Exciting, richly informative, and always surprising, 'Colour' lifts the lid on the historical palette and unearths an astonishing wealth of stories about the quest for colours, and our efforts to understand them.
Information
Format: Paperback
Pages: 512 pages, Maps and integrated illustrations
Publisher: Hodder & Stoughton General Division
Publication Date: 08/05/2003
Category: Painting & paintings
ISBN: 9780340733295
Free Home Delivery
on all orders
Pick up orders
from local bookshops
Reviews
Showing 1 - 4 of 4 reviews.
Review by deliriumslibrarian
16/06/2015
I've been meaning to read this book for ages, since I first found it in a bookstore, and I wasn't disappointed. There were times when I wanted more continuity, and more references so I could pursue some of the stories on my own, but in general a wonderful read with fascinating facts and imaginings that connect to the history of empire, of art, of psychology, of food and of cultural survival. Stories about Aboriginal art in Australia and the purple skirts worn by women in the Andes will particularly stay with me.
Review by beadinggem
16/06/2015
Victoria Finlay already gained one big fan when I first read her Jewels: A Secret History. This book preceded Jewels although the style is the same - part travelogue, part history. The author gets to travel the world over to search out the source and stories behind colour pigments, meeting fascinating people along the way. I was naturally fascinated to read about the gemstones like malachite and lapis lazuli which were once used as pigments. But the references to jewels are minimal but this should not detract from what is a most enjoyable read.
Review by Bookoholic73
16/06/2015
Colour is one of my all-time-favourites and a book that I often think about and refer to. And, whenever I think of it, I just want to read it again. Finlay became fascinated by colours when she saw the light streaming through the stained glass windows of the cathedral of Chartres, and all I have to say is Thank you! She starts with black, white and ochre and continues through the colours of the rainbow- and takes us on a fantastic journey investigating the true reasons behind Napolon´s demise, saffron fields of Spain, the importance of cow pee for painters of sunshine and much much more. If you are anything like me, you will gladly follow her across the globe and enjoy the people she meets and the stories she shares. I am desperately longing for Victoria Finlay to write a new book- or for my copy of Colours, which is lent out to a good friend.
Review by fist
16/06/2015
I wish I'd held on to this book, because I regularly find myself trying to remember how a particular colour or dye is made. All I remember is the story about yellow being extracted from Indian mango-eating cows - and that was shown to be a canard. So, with hindsight: an interesting, informative book on the story of colours in dyes and paints.