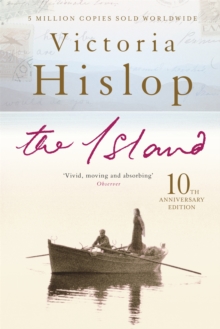 Description
The Island, the acclaimed million-copy No.1 bestseller and winner of Richard & Judy's Summer Read 2006 from Victoria Hislop, is a dramatic tale of four generations, rent by war, illicit love, violence and leprosy, from the thirties, through the war, to the present day.***A beautiful 10th anniversary paperback edition that includes a new essay by Victoria Hislop on the impact of this million-copy bestseller.***On the brink of a life-changing decision, Alexis Fielding longs to find out about her mother's past.
But Sofia has never spoken of it. All she admits to is growing up in a small Cretan village before moving to London.
When Alexis decides to visit Crete, however, Sofia gives her daughter a letter to take to an old friend, and promises that through her she will learn more.
Arriving in Plaka, Alexis is astonished to see that it lies a stone's throw from the tiny, deserted island of Spinalonga - Greece's former leper colony.
Then she finds Fotini, and at last hears the story that Sofia has buried all her life: the tale of her great-grandmother Eleni and her daughters and a family rent by tragedy, war and passion.
She discovers how intimately she is connected with the island, and how secrecy holds them all in its powerful grip...
Information
Format: Paperback
Pages: 496 pages
Publisher: Headline Publishing Group
Publication Date: 10/04/2006
ISBN: 9780755309511
Other Formats
EPUB from £4.99
Hardback from £23.65
Downloadable audio file from £12.05
CD-Audio from £13.25
Free Home Delivery
on all orders
Pick up orders
from local bookshops
Reviews
Showing 1 - 5 of 11 reviews.
Previous | Next
Review by mooknits
16/06/2015
A really enjoyable read. I loved this book. It wasn't too heavy, but wasn't just froth either. The main characters are totally believable and I loved the ones I was supposed to love and hated the ones I was supposed to hate. It was beautifully written, easy to read and a pleasure to have in my hands. My only slight niggle was that the end felt a little rushed in comparison to the pace of the rest of the book and that the main character Maria, had maybe just a little bit too much hardship in her life. It wasn't sappy at all and the endings weren't all happy and weren't universally sad - it felt real. I didn't want it to end and I don't think I'll find another book as enjoyable as this one for some time to come. I would definately recommend it to everyone
Review by susan139
16/06/2015
I must admit I read this in a rush, and it was only afterwards that the book that I really thought about the book. I looked on the internet for photographs of the island of Spinalonga and recognised it from the descriptions from the book. I seemed to bring the fiction to life.Definitely a book that grows on you.
Review by southpaw
16/06/2015
I really didn't get all the hype about this book. From the raves I'd heard and the huge numbers of copies this book has moved off the shelves, I expected something rather more original. It was an easy, if unchallenging, read; the writing style was fluid but uninspired, the characters sketched rather than painted. Basic beach reading at best.
Review by OhSnap
16/06/2015
I really did enjoy this book. It's described as 'a beach read with a heart' and this is exactly what it is. It's easy to read, not exactly complex or challenging but its a really enthralling, involving story. I loved the setting of the story - a small village on Crete and even though I'd never been to Greece or any of its islands, it was so vivid in my mind. Surprisingly for a book thats considered to be quite lighthearted, it managed to deal with the serious issue of leprosy/disfiguring diseases sensitively and involving them in the plot without ever seeming contrived or self-righteous. The best thing about this book is that you don't feel that it's trying to be something that it's not. It's unpretentious and simple but never boring or dull. Its also never cliched or cheesy. Its just a genuinely enjoyable read. I would definately recommend it. It may not have the tension, the complex imagery and themes and the shocking twists and turns that other books have but you will definately find yourself, like me, wanting to book a trip to Crete for your next summer holiday in the hope of experiencing parts of the novel for yourself.
Review by posthumose
16/06/2015
An excellent novel set in Crete. The historical details of the local island leper colony,Spinalonga, are accurate throughout its fifty year history. We follow a Greek family there through the second world war and beyond for four generations. A truly original story, highly recommended.