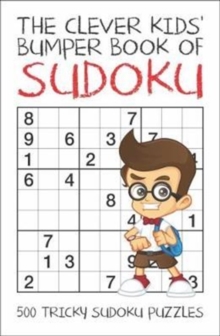 The Clever Kids' Bumper Book of Sudoku : 500 Tricky Sudoku Puzzles
Paperback / softback
Description
Bromleigh House, a global leader in puzzle magazines are proud to announce the launch of a new high quality puzzle book. The Clever Kids' Bumper Book of Sudoku will feature 500 challenging Sudoku puzzles.
With engaging cartoon characters to lead the kids through the fun packed page and exciting personality driven covers and generous page count, this new title will appeal to smart young puzzlers.
The highest quality content is guaranteed from a publisher with over 15 years' experience in the puzzle market. With an annual RSV well in excess of GBP5 million in the puzzle magazine sector, Bromleigh House is a nationally recognised brand in the puzzle market and that knowledge and market expertise is now being expanded into the book sector. Excellent brand awareness, targeted advertising and a deep understanding of the puzzle market, Bromleigh House's new puzzle books are guaranteed to be a hit with readers and a sure fire commercial success for retailers.
Information
Format: Paperback / softback
Pages: 272 pages
Publisher: Bromleigh House Ltd
Publication Date: 28/11/2019
Category: Puzzle books (Children's/YA)
ISBN: 9781909714595