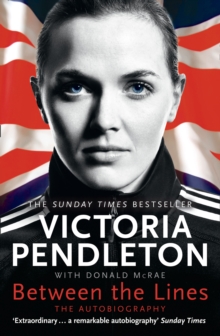 Between the Lines: My Autobiography
Paperback / softback
Description
The Golden Girl of British cycling opens up, for the first time, in searingly honest detail about what drives her to compete in a sport she no longer loves.
Written with Donald McRae, 2-time winner of the William Hill Award, "Between the Lines" is a gripping story of success against the odds. Victoria Pendleton MBE is not your typical female athlete. Admired as much by the weekly glossies as she is the newspaper back pages, she transcends her sport. In 2005 she became first British female to win Gold at the cycling World Championships in 40 years.
She followed it up with gold medals at the Commonwealth Games in 2006 and another World Championship in 2007. Arriving in Beijing for the 2008 Olympic Games, Pendleton was on top of the world, taking Gold and joining the ranks of British Olympic heroes. And then it started to go wrong. Feted by the press and the public alike, behind the scenes the cracks and strains started to show.
Despite retaining her World Champion status in 2009, it was a close run thing and her shield of invincibility started to drop.
Victoria was falling out of love with her sport. The sport that had made her was starting to tear her apart. Between the Lines documents the considerable lows as well as the highs and reveals what it took to turn her life around and achieve glory at London 2012.
Information
Format: Paperback / softback
Pages: 336 pages, (2x8pp plates)
Publisher: HarperCollins Publishers
Publication Date: 11/04/2013
Category: Autobiography: sport
ISBN: 9780007479528
Also by Victoria Pendleton