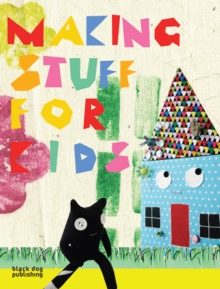 Making Stuff For Kids
Paperback
Description
Following on from the success of "Making Stuff: An Alternative Craft Book", "Making Stuff for Kids" is a vibrant and exciting new craft book that features a whole slew of new ideas for cool things to make for and with kids.
Well-loved favourites, like pinatas, potato printing and kaleidoscopes are explained and illustrated, as well as felted puppets, wacky worms and nautical mobiles.
Alongside there is a chapter of ideas that adults can make for their little ones - this includes bibs, booties, hats, toy boxes and a whole selection of Halloween costumes.
Perfect for children under ten and for young mums and dads, "Making Stuff for Kids" is a straight up shot of pure unadulterated fun for all.
Information
Format: Paperback
Pages: 144 pages, 232 b/w and colour illustrations
Publisher: Black Dog Publishing London UK
Publication Date: 05/11/2007
Category: Handicrafts, decorative arts & crafts
ISBN: 9781906155001
Free Home Delivery
on all orders
Pick up orders
from local bookshops
Reviews
Showing 1 - 1 of 1 reviews.
Review by Bbexlibris
16/06/2015
The beauty of this craft book lies not just in its recipe for "Sparkle and shine playdough", or its "Pebble Pals", or the " Cute as a button necklace", but it is much deeper. It brilliance of it is where it calls out to parents and children alike: pick me up!!! Be creative!! Get messy! Don't stress! Making Stuff For Kids will bring parents and kids or kids and other kids together in order to create-and with their own hands make something to enjoy.Making Stuff For Kids, is a complete child's craft book, divided into helpful (age appropriate) sections: teeny talents, cunning crafters, super sills, and tough cookies. This way you will know if your child, or even if you are in way over your creative head. The beginning includes a section of how to's: how to knit, how to do appliqué, papier mache, pompoms and sewing- just in case you, as a parent need to learn or refresh your skillz right along side your child.The book is composed of craft ideas by contributors, I believe causing Making Stuff For Kids to break away from the traditional nerdy-kid-craft-mold(and parents wondering: what do I do with THIS mold) to a more interesting and involved crafting, where kids are really creating stuff that they are interested in! The creativity level is pretty alarming so beware!!!So far we have only had a chance to do several of the crafts- as my children are a little young, and things can get crazy while crafting (they are ages 2 and 4 and there are already some really fun projects for them in this book!!) We have done (and loved) the Pebble Pals (p.51), the Peg People (p. 52), The Scratch it and see (p. 53) and the potatoes for T! (p. 64). Next on our list (it has actually been the craft my 4 yr. old has been begging for since he looked through the book) Creepy Crawly Wormery (p. 47)!! Our young family will definitely grow into this book, so if you have older kids- there is a lot of things they could do, even some crafts designed for them to do without you! This is one of those books, that we will keep coming back to on those days of- "mom, I'm bored", or "there's nothing to do, mom!". I know it will be one we constantly have handy as our boys get older, I dread the stains it will suffer, but as any well loved book I am already aware of this unstoppable, impending doom- love stains.I love it, and obviously recommend it %100!!CRAFT ON!!!