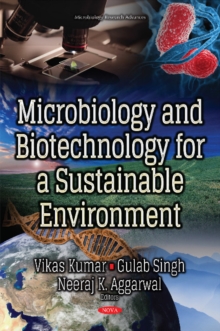 Microbiology & Biotechnology for a Sustainable Environment
Hardback
Description
The precarious activities of human beings bring undesirable changes in the environment.
The environment is degrading due to overpopulation, industrialisation, heavy metals, pesticide, antibiotics, and other hazardous chemicals from one or more sources.
As a result, humanity has to ponder over the condition of the environment, which is getting worse day by day.
The more efforts humanity puts forward to control nature, the more environmental pollution increases, and because of this the future is getting more and more insecure.
So, environmental protection is the primary concern for the future of humanity.
There are vast scientific communities working towards the development of eco-technologies, which can improve environmental sustainability without hampering the development of society.
Environmental sustainability defines how people should study and protect ecosystems, air quality, integrity and focus on the elements that place stress on the quality of the environment.
The environmental protection agencies recognised that developing technology acts as a key to this sustainability and protecting the environment from damages that technological advances could potentially bring.
Environmental Microbiology and Biotechnology has emerged as very important and promising disciplines in the last two decades.
Biotechnology has shown a great promise in solving a plethora of environmental problems.
So, different authors regularly try to fill the gap of knowledge in this field.
The major goal of this book is to emphasise all the disciplines from the subject of environmental microbiology and biotechnology.
This book fills a long felt gap in the field of environmental sustainability and presents chapters authored by most active researchers in this area.
Considerable emphasis in the book is given on all the currently significant research topics/areas, which can be used in the future for the sustainable development of society through environmental protection.
In addition, we have attempted to provide balanced coverage of advancements that have been achieved to protect the environment.
So, we can anticipate that this book has valuable knowledge for all the academic levels, with the main emphases on scientific community.
The leading researchers can find information about different approaches for environmental protection.
This book will also prove as a valuable reference for graduate as well as post-graduate students to cover the syllabi related to technologies for environmental protection.
The authors provide comprehensive, accessible and updated information to teachers, students and researchers in the fields of biotechnology, environmental science, microbiology, botany, zoology, environmental engineering and many other disciplines.
Information
Format: Hardback
Pages: 235 pages
Publisher: Nova Science Publishers Inc
Publication Date: 01/07/2017
Category: Microbiology (non-medical)
ISBN: 9781536120769
Free Home Delivery
on all orders
Pick up orders
from local bookshops