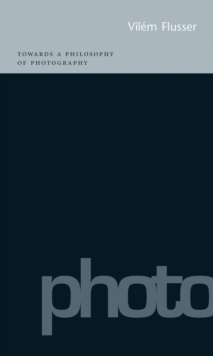 Towards a Philosophy of Photography
Paperback
Description
With an introduction by Hubertus von Amelunxen Media philosopher Vilem Flusser proposed a revolutionary new way of thinking about photography.
An analysis of the medium in terms of aesthetics, science and politics provided him with new ways of understanding both the cultural crises of the past and the new social forms nascent within them.
Flusser showed how the transformation of textual into visual culture (from the linearity of history into the two-dimensionality of magic) and of industrial into post-industrial society (from work into leisure) went hand in hand, and how photography allows us to read and interpret these changes with particular clarity.
Information
Format: Paperback
Pages: 176 pages
Publisher: Reaktion Books
Publication Date: 01/10/2000
Category: Theory of art
ISBN: 9781861890764
Free Home Delivery
on all orders
Pick up orders
from local bookshops
Reviews
Showing 1 - 1 of 1 reviews.
Review by Paulagraph
16/06/2015
Brief. Fascinating. According to Flusser, we're caught, it seems, in a Kafkaesque condition of non-freedom, swallowed up so to speak by our apparatuses. He describes two historical paradigm shifts: the invention of writing, which he situates in the second millennium BCE and the invention of photography in the 19th century. He states that the first humans were surrounded by their tools; then, as a consequence of the Industrial Revolution, humans began to surround their machines; finally, after the invention of photography, humans came to reside within their image-making apparatuses, inside the thoroughly programmed and programmable black boxes of their cameras (shorthand for all systems that self-program by means of feedback). Flusser depicts information technologies that produce redundant and non-original images, as well as political and economic systems that are themselves apparatuses, as entities that use humans for their own evolution and success rather than vice versa. This idea reminds me of Michael Pollen's The Botany of Desire with its claim that we are used by that which we purport to use. Flusser also brings to mind Foucault in the sense that his philosophy allows for only the most elusive and problematic possibility of human agency. For Flusser this potential/ possibility is located in what he calls "experimental" photography in which a photographer intentionally subverts an apparatus and thus creates a kind of free space. Unfortunately, Flusser provides neither a definition of nor specific examples of such experimental photography. This might be because both definitions and examples are inherently shifty and shifting, impossible to pin down from one post-industrial, post-historical "now" to the next. Flusser's references to the lost linearity of history almost make me nostalgic. I've become so used to devaluing stodgy linear progression in favor of non-linear multiple points of view and chance operations (in life, but most especially in art) that I'm quite surprised by the longing for such an historical model that Flusser's writing provokes in me.