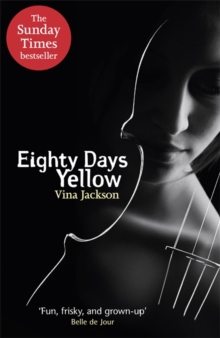 Eighty Days Yellow
Paperback
Description
Caught in a frustrating relationship with a man who can't accept her for who she is, passionate, flame-haired violinist Summer finds release in her music.
She spends her afternoons busking on the underground, lost in the works of Vivaldi or Mendelssohn.
When her violin is damaged beyond repair, Summer receives a surprising proposition from Dominik, a university professor with powerful desires, who has been captivated by Summer ever since he heard her perform.
Dominik will replace her priceless violin, but only if she agrees to play for him in a private concert.Unable to deny the chemistry between them, Dominik and Summer embark on an intense affair full of daring twists and turns, as unpredictable as it is thrilling.
For Summer it is a chance to finally embrace her long-denied dark side, but she'll soon learn that where there's pleasure must come pain. And can a relationship born of such all-consuming passion, ever really survive?Exhilarating, seductive and tantalisingly bold, EIGHTY DAYS is a love story that will leave you breathless for more.
Information
Format: Paperback
Pages: 336 pages
Publisher: Orion Publishing Co
Publication Date: 01/07/2012
Category: Adult & contemporary romance
ISBN: 9781409127741
Free Home Delivery
on all orders
Pick up orders
from local bookshops
Reviews
Showing 1 - 5 of 6 reviews.
Previous | Next
Review by boppisces
16/06/2015
Sigh, I liked this even less than 50 Shades of Grey! The characters were not fleshed out enough (pun intended) and I started the book one afternoon and finished it later that evening - mainly because I wanted to get it over and done with. The main character, Summer, is a classical violinist from New Zealand so there are a couple of references to home. Summer's journey into the S&M world begins when main male character, Dominik, happens upon her while she is busking on the Underground. After her violin is damaged beyond repair he approaches her for some 'private' performances in exchange for a new violin. Later, Summer is used and abused by a multitude of men, some of whom have paid for the privilege - they haven't even paid her, instead her 'slavemaster' appears to pocket all the money. She appears detached from her experiences. The men involved obviously have no respect for women, and the women have no respect for themselves! After Summer's experiences in 'Eighty Days Yellow' I wouldn't touch her with a barge pole unless she had been tested for every STD imaginable. I'm also sure every parent would cringe as she describes her first sexual encounter as being in the changing rooms with her swim coach! The book feels like it was hammered out quickly to ride on the coat-tails of 50 Shades. Disappointing and a below average read.
Review by Daydreambooks
16/06/2015
This was a different storyline to most comparable FSOG like books, I liked the music themed but I found Summer to be duh and extremely frustrating in her actions. But I quite like Domnick so intrigued to buy the second and third book.
Review by hjarta
16/06/2015
I think this book was marketed to the wrong group. It was lovely, beautifully written, the story dark and intense. I can't wait to read the rest of the trilogy.
Review by DJRMel
16/06/2015
A friend got tired of my mocking her praise for that 50 shades crap (that I've read but won't put on my read list here because I don't need recs or trivia questions showing up for something that badly written) and suggested I read this because, in her words, "the characters aren't remotely romantic". True, and at least these characters aren't emotional children, for the most part. As erotica goes it's better than most of what's become popular now that people can hide what they read in any tablet or ereader.
Review by iloveladyporn
16/06/2015
This is one intense book.<br/>Odd to say the least. I was in love with Summer in her complete udder passion for music so much it was erotic. Dominik seemed to hold the key to some much for Summer but was unable to express himself to her. I was hurt for Summer even know she didn't know of Dominik's on night with another women. Then when things came to a head with them neither could speak up so they parted ways. Then don't get me started on Summer's friend Charlotte who seemed to just set Summer up throughout the book. There is a bit of disregard to feeling throughout the book as well as everyone else seemed to know what was going on besides Summer. Summer's time with Victor was almost unbearable for me knowing that Summer was not meant to be in that situation and I only hoped that she saw the light of day before it was too late. <br/>The end of the book was as heart warming as it could get. There is still a lack of emotion I feel but I still want to find out more about Summer and Dominik in Eighty Days Blue.<br/>There is mild BDSM as Summer is just finding her true self. <br/>Lots of hot raunchy sex.<br/><br/>Quote:<br/><br/>"Knowing the point of no return had been reached, breached, and the fuck was now inevitable."<br/><br/>Read more reviews on my blog iloveladyporn.com