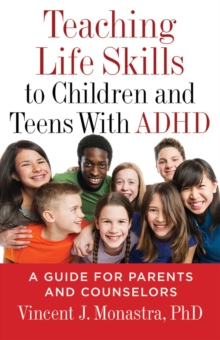 Teaching Life Skills to Children and Teens with ADHD : A Guide for Parents and Counselors
Paperback / softback
Description
You hoped your child's tantrums would fade once she started elementary school.
You hoped she'd be able to share. You hoped she'd be calm and happy after wearing herself out at recess...instead, her energy bubbles out all over the classroom. No matter how often you remind your teen: ""look at me when I'm speaking,"" ""respect others' personal space,"" ""quit freaking out over everything!"" he just doesn't seem to understand.
For most kids, these are momentary glitches. For some, learning to relate to others doesn't come easily. When children have attention deficit/hyperactivity disorder (ADHD), even if their medication smooths out the worst of the bumps, they still may have a lot of trouble in social situations like school. Teaching Life Skills to Children and Teens With ADHD describes the Life Skills Program created by author Vincent J.
Monastra at his ADHD clinic. It features practical strategies for helping children and teens develop essential life skills at home, school, or in a support group setting. Some of these skills include:Engaging others in conversationsSeeking out confidence-building experiencesResponding appropriately to teasingEstablishing friendships and social networksTrying group activities to avoid isolationDeveloping healthy eating, sleeping and exercise habitsSolving problems and getting organizedShowing sensitivity to others' emotions
Information
Format:Paperback / softback
Pages:240 pages
Publisher:American Psychological Association
Publication Date:30/11/2015
Category:
ISBN:9781433820991
Also by Vincent J. Monastra
Also in the Lifetools: Books for the General Public series | View all