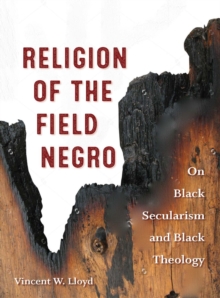 Religion of the Field Negro : On Black Secularism and Black Theology
Paperback / softback
Description
Black theology has lost its direction. To reclaim its original power and to advance racial justice struggles today black theology must fully embrace blackness and theology.
But multiculturalism and religious pluralism have boxed in black theology, forcing it to speak in terms dictated by a power structure founded on white supremacy.
In Religion of the Field Negro, Vincent W. Lloyd advances and develops black theology immodestly, privileging the perspective of African Americans and employing a distinctively theological analysis. As Lloyd argues, secularism is entangled with the disciplining impulses of modernity, with neoliberal economics, and with Western imperialism - but it also contaminates and castrates black theology.
Inspired by critics of secularism in other fields, Religion of the Field Negro probes the subtle ways in which religion is excluded and managed in black culture.
Using Barack Obama, Huey Newton, and Steve Biko as case studies, it shows how the criticism of secularism is the prerequisite of all criticism, and it shows how criticism and grassroots organizing must go hand in hand.
But scholars of secularism too often ignore race, and scholars of race too often ignore secularism.
Scholars of black theology too often ignore the theoretical insights of secular black studies scholars, and race theorists too often ignore the critical insights of religious thinkers.
Religion of the Field Negro brings together vibrant scholarly conversations that have remained at a distance from each other until now.
Weaving theological sources, critical theory, and cultural analysis, this book offers new answers to pressing questions about race and justice, love and hope, theorizing and organizing, and the role of whites in black struggle.
The insights of James Cone are developed together with those of James Baldwin, Sylvia Wynter, and Achille Mbembe, all in the service of developing a political-theological vision that motivates us to challenge the racist paradigms of white supremacy.
Information
Format: Paperback / softback
Pages: 304 pages
Publisher: Fordham University Press
Publication Date: 07/11/2017
Category: Social & cultural history
ISBN: 9780823277643
Free Home Delivery
on all orders
Pick up orders
from local bookshops