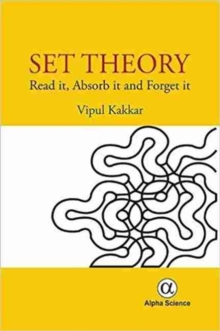 Set Theory : Read it, Absorb it and Forget it
Hardback
Description
SET THEORY: Read it, Absorb it and Forget it, an introductory text book, introduces concepts in set theory that one must know.
The construction of various number systems and the real number system with the help of Dedekind cut approach are provided.
The properties of the real number system are given in detail.
The equivalent statements of the Axiom of Choice are given and the equivalence is proved.
A surprising consequence of the Axiom of Choice is discussed in the book.
The detailed properties of the ordinals and the cardinals are also discussed.
At the end an appendix is added which counts the number of elements in various important finite sets. This book can also be considered as a supplementary text.
Information
Format: Hardback
Pages: 156 pages
Publisher: Alpha Science International Ltd
Publication Date: 29/02/2016
Category: Technology: general issues
ISBN: 9781783322572
Free Home Delivery
on all orders
Pick up orders
from local bookshops