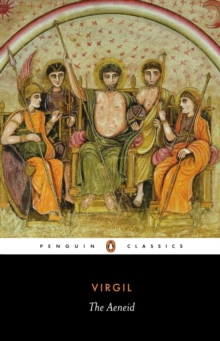 Description
Aeneas the True - son of Venus and of a mortal father - escapes from Troy after it is sacked by the conquering Greeks.
He undergoes many trials and adventures on a long sea journey, from a doomed love affair in Carthage with the tragic Queen Dido to a sojourn in the underworld.
All the way, the hero is tormented by the meddling of the vengeful Juno, Queen of the Gods and a bitter enemy of Troy, but his mother and other gods protect Aeneas from despair and remind him of his ultimate destiny - to found the great city of Rome.
Reflecting the Roman peoples' great interest in the 'myth' of their origins, Virgil (70-19 BC) made the story of Aeneas glow with a new light in his majestic epic.
Information
Format: Paperback
Pages: 368 pages
Publisher: Penguin Books Ltd
Publication Date: 30/12/1956
Category: Poetry by individual poets
ISBN: 9780140440515
Other Formats
Paperback from £2.50
Hardback from £9.69
CD-Audio from £7.79
Audio disk from £26.65
Paperback / softback from £13.99
EPUB from £0.99
Free Home Delivery
on all orders
Pick up orders
from local bookshops
Reviews
Showing 1 - 3 of 3 reviews.
Review by mcgooglykins
16/06/2015
The fact that this is unfinished makes me want to gnaw on my own liver - because it ends right when things start (finally) getting interesting. Still an interesting read, however, if only to get glimpses into the way the ancient Greeks thought.
Review by shanaqui
16/06/2015
Probably my favourite epic. Aeneas' sense of duty is more resonant with me than Odysseus' trickery.
Review by TheDivineOomba
16/06/2015
Ah yes - The Aeneid by Virgil - Its the Romans answer to the Greeks Odyssey, written much much later. While the book is a classic, I found it difficult to read, even translated. There are a lot of concepts that don't quite work with modern day. I also found a bit... preachy - always obey the Gods, Free Will vs Prophecy, etc.Also, this book is problem written at the start of literature, as pleasure (Rather than literature as history or literature as religious text). So at times, it can be quite dense - also, as they say today "It could use a good editor" - there seems to be some pointlessness traveling that could have been cut out with no loss of plot. Either way, I read it, glad I did so, but I won't be rereading it.