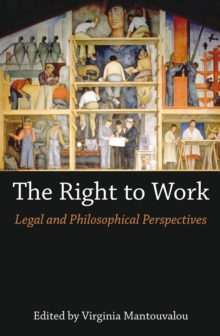 The Right to Work : Legal and Philosophical Perspectives
Hardback
Description
The value of work cannot be underestimated in today's world.
Work is valuablebecause productive labour generates goods needed for survival, such as food andhousing; goods needed for self-development, such as education and culture; andother material goods that people wish to have in order to live a fulfilling life.
Ajob also generally inspires a sense of achievement, self-esteem and the esteem ofothers.
People develop social relations at work, which can be very important forthem.
Work brings both material and non-material benefits. There is no doubt that work is a crucial good. Do we have a human right to thisgood? What is the content of the right? Does it impose a duty on governments topromote full employment?
Does it entail an obligation to protect decent work?There is also a question about the right-holders.
Do migrants have a right to work,for example? At the same time many people would rather not work. What kind ofright is this, if many people do not want to have it?
The chapters of this bookaddress the uncertainty and controversy that surround the right to work both intheoretical scholarship and in policymaking.
They discuss the philosophicalunderpinnings of the right to work, and its development in human rights law atnational level (in jurisdictions such as the United Kingdom, Australia, Japan,France and the United States) and international level (in the context of the UnitedNations, the European Social Charter, the International Labour Organization, theEuropean Convention on Human Rights and other legal orders).
Information
Format: Hardback
Pages: 368 pages
Publisher: Bloomsbury Publishing PLC
Publication Date: 18/12/2014
Category: Employment & labour law
ISBN: 9781849465106
Free Home Delivery
on all orders
Pick up orders
from local bookshops