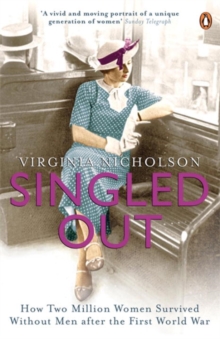 Singled Out : How Two Million Women Survived without Men After the First World War
Paperback
Description
Virginia Nicholson's Singled Out is the touching and beautifully told story of the women who were left alone after World War I - a remarkable generation of women who were changed by war; and in their turn helped change society.In 1919 a generation of young women discovered that there were, quite simply, not enough men to go round, and the statistics confirmed it.
After the 1921 Census, the press ran alarming stories of the 'Problem of the Surplus Women - Two Million who can never become Wives...'.
This book is about those women, and about how they were forced, by a tragedy of historic proportions, to stop depending on men for their income, their identity and their future happiness.'This is a ground-breaking book, richly nuanced with titbits of information, insight and understanding' Daily Mail 'Remarkably perceptive and well-researched ...
Virginia Nicholson has produced another extraordinarily interesting work, sensitive, intelligent and well-written' Sunday Telegraph 'This in an inspiring book, lovingly researched, well-written and humane... the period is beautifully caught' Economist 'Brave, humane and honest' Observer Virginia Nicholson was born in Newcastle-upon-Tyne.
She has worked as a documentary researcher for BBC Television and her first book, Charleston - A Bloomsbury House and Garden (written in collaboration with her father, Quentin Bell), was an account of the Sussex home of her grandmother, the painter Vanessa Bell.
Her second book, Among the Bohemians: Experiments in Living 1900-1939, was published by Penguin in 2002.
She lives in Sussex.
Information
Format: Paperback
Pages: 432 pages
Publisher: Penguin Books Ltd
Publication Date: 05/06/2008
Category: British & Irish history
ISBN: 9780141020624
Free Home Delivery
on all orders
Pick up orders
from local bookshops
Reviews
Showing 1 - 1 of 1 reviews.
Review by AdonisGuilfoyle
16/06/2015
An informative and well researched - though occasionally repetitive - account of the 'Surplus Women' of the 1920s, left behind after a generation of young men were killed during the First World War. The personal histories of larger than life personalities like author Winifred Holtby, archaeologist Gertrude Caton-Thompson and Bradford battleaxe Florence White, who campaigned for 'spinsters' pensions', are remarkable and inspiring. Whether they remained unmarried through situation or choice, these women chose to challenge the traditional role of wife and mother, much to the horror of complacent males everywhere. The industrious workforce of clever and capable young women who took over during the war years were suddenly and literally out of a job when the surviving soldiers returned home - but there weren't enough men to make honest women of them either. All praise to the pioneers mentioned by Nicholson who decided that the men couldn't have everything their way.Virginia Nicholson's history of 'how two million women survived without men after the First World War' is part ode, part lecture - if she recounts once how spinsters were viewed as sexually frustrated, sour-faced frumps, then she must do so in every chapter - but definitely required reading for every woman in the UK who takes for granted her 'right' to earn a living, have a family, or more often than not, do both.