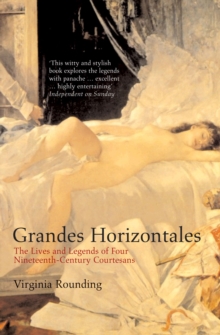 Les Grandes Horizontales
Paperback
Description
The lives and legends of four women are examined in this fascinating book, all representatives of the golden age of the French courtesan.
In the reign of Emperor Napoleon III the opulent and pampered demi-monde became almost indistinguishable from the haut-monde, with mythical reputations growing up around its most glittering and favoured celebrities.
Marie Duplessis became the prototype of the virtuous courtesan when Alexandre Dumas Fils portrayed her in La dame aux Camellas.
Apollonie Sabatier put men of letters at ease amidst the bawdy talk of her salon.
The Russian Jew La Paiva appeared intent to prey on rich young men of Paris.
The English beauty who called herself Cora Pearl was another 'foreign threat', with her athletic physique, sixty horses and ability 'to make bored men laugh'.
Virginia Rounding disentangles myth from reality in her lively, thought-provoking study.
Nineteenth-century Paris comes to life and so do its most distinguished and declasse inhabitants.
Information
Format: Paperback
Pages: 352 pages, Illustrations (some col.), ports. (some col.)
Publisher: Bloomsbury Publishing PLC
Publication Date: 01/07/2004
ISBN: 9780747568599
Free Home Delivery
on all orders
Pick up orders
from local bookshops
Reviews
Showing 1 - 2 of 2 reviews.
Review by Meggo
16/06/2015
This book follows the lives and professional careers of four demi-mondaines, courtesans of Napoleon III's Paris. Well researched, and well written, the book is occasionally choppy as the author appears to struggle with when to bring their stories together, and when to focus on each story individually. Definitely worth the time to read.
Review by startingover
16/06/2015
'Grandes Horizontales' studies in some depth the lives (and legends, as the subtitle of the book suggests) of four notable courtesans. She supplies more in the way of historical background detail than Joanna Richardson, including information about the Parisian system of prostitute regulation and the very significant point (back to Clarissa) that women's options were very limited. Life for women from the working class (which the four courtesans were) was, in addition, often short and brutal.Although the best-known courtesans did well for themselves in material terms, theirs was a precarious existence. Should their main 'protector' withdraw his financial support, the courtesan was left with no alternative but to find a substitute - easy enough for a woman at the height of her youth and beauty, but a much more difficult matter as her beauty began to fade and other, younger women came onto the scene. It is also worth remembering that, however wealthy a courtesan became, however well-connected and aristocratic her lovers, she could never rise from the demi-monde to the haut-monde. As a woman - no matter what she did during her life - her sexuality defined her and precluded her from 'polite society', just as Clarissa Harlowe - once 'fallen' - can never be accepted by her family - not, at any rate, until she manages to starve herself to death.[May 2008]