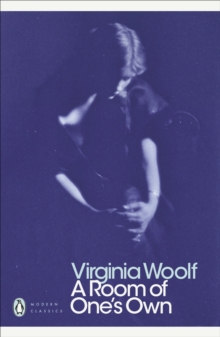 A Room of One's Own
Paperback
Description
Collecting two book-length essays, A Room of One's Own and Three Guineas is Virginia Woolf's most powerful feminist writing, justifying the need for women to possess intellectual freedom and financial independence.
This Penguin Modern Classics edition is edited with an introduction and notes by Michele Barrett.A Room of One's Own, based on a lecture given at Girton College, Cambridge, is one of the great feminist polemics, ranging in its themes from Jane Austen and Carlotte Bronte to the silent fate of Shakespeare's gifted (imaginary) sister and the effects of poverty and sexual constraint on female creativity.Three Guineas was published almost a decade later and breaks new ground in its discussion of men, militarism and women's attitudes towards war.
These two pieces reveal Virginia Woolf's fiery spirit and sophisticated wit, and confirm her status as a highly inspirational essayist.Virginia Woolf (1882-1941) is regarded as a major 20th century author and essayist, a key figure in literary history as a feminist and modernist, and the centre of 'The Bloomsbury Group'.
This informal collective of artists and writers which included Lytton Strachey and Roger Fry, exerted a powerful influence over early twentieth-century British culture.
Between 1925 and 1931 Virginia Woolf produced what are now regarded as her finest masterpieces, from Mrs Dalloway (1925) to the poetic and highly experimental novel The Waves (1931).
She also maintained an astonishing output of literary criticism, short fiction, journalism and biography, including the playfully subversive Orlando (1928) and A Room of One's Own (1929) a passionate feminist essay.If you enjoyed A Room of One's Own, you might like Woolf's Orlando, also available in Penguin Modern Classics.'Probably the most influential piece of non-fictional writing by a woman in this century'Hermione Lee, Financial Times
Information
Format: Paperback
Pages: 112 pages
Publisher: Penguin Books Ltd
Publication Date: 28/02/2002
Category: Feminism & feminist theory
ISBN: 9780141183534
Other Formats
eAudiobook MP3 from £8.24
Paperback from £2.50
from £5.45
Hardback from £7.45
EPUB from £0.99
PDF from £2.54
Free Home Delivery
on all orders
Pick up orders
from local bookshops
Reviews
Showing 1 - 5 of 5 reviews.
Review by juliette07
16/06/2015
Just completed this brilliant essay for A Novel challenge. It was originally presented by Virginia Woolf to undergraduates of Girton and Newnham Colleges, Cambridge, England in 1929. In essence it is centred upon the theme of women and fiction - yet she devlops ideas that move through life, literature, philosophy and society. I loved her reflective thinking and the way in which she linked her thoughts so seamlessly. In my opinion it was five star plus plus and one of the most wonderful reads I have ever experienced - on a par to war and Peace in terms of impact ...I reserved this book from the library and received the Hogarth press edition of 1959 - that is an old book! However I simply must get my own copy - it has so inspired me. There is a sense of compulsion as I read that I knew I would have to read this work again. I savoured every page, idea and reflection. If you are interested in women, their place in society through history and their writings this is a must for you!
Review by MickyFine
16/06/2015
Virginia Woolf's classic essay on women and writing.I am not a big fan of Virginia Woolf. I had to suffer through studying Jacob's Room during my undergrad and abhorred it. The only thing that saved me from completely writing off Virginia Woolf was my knowledge that she highly respected Jane Austen, and I just can't hate anyone who appreciates my favourite author. After reading this essay, I may succumb to all of those suggestions to give Woolf another try.Her prose and her arguments are seductive. In just a little over 100 pages, Woolf discusses the immensity of the topic of Women and Fiction and reaches her very famous conclusion that in order for a woman to be able to write, she must have £500 a year and a room of her own. In the process of reaching this conclusion she explores the position women have held in society, their role in poetry and fiction, and the writing of women. What I found most appealing in Woolf's argument was that writing should not be done solely from a single gender perspective but rather that writer's should strive to be "man-womanly" or "woman-manly." Woolf's essay is definitely feminist but not one of the man-hating variety. Instead, in her conclusion, she exhorts her audience of women to simply take advantage of the opportunities now available to them that women in the past have not had. They have the chance to possess the £500 a year and a room of one's own and should exercise that privilege to share their unique genius with others.
Review by kirstiecat
16/06/2015
I've always thought that Virginia Woolf was really underrated. This is much different than reading her fiction such as in To The Lighthouse and Orlando because it's a nonfiction examination of many female writers such as Charlotte Bronte and Jane Austen. It supposes how difficult writing was for women in the 1800s and earlier as well as how female writers were perceived. It's a really good landmark to show how far women have come through the years. However, Woolf misses the mark in some ways in terms of an elitism in dwelling on the idea of genius existing mainly in the upper and educated classes. Still, a very interesting and thought provoking read.
Review by shanaqui
16/06/2015
I don't generally enjoy Virginia Woolf's writing very much, I must confess. I don't find her writing, in general, very compelling. But reading this essay, I did. I didn't want to put it down. It helps that it has a narrative, kind of a story, and that it's well-suited to a stream-of-consciousness style.<br/><br/>The things she says are not irrelevant yet, either. Certainly not when you're looking at the development of women's writing, but also not when you're thinking about women's writing now. I'm sure modern female writers disagree about such ideas as the androgynous mind being necessary, or the idea that one might need to get away from having a family to be a writer, or whatever, but I think it's still important to read this. All the better if men read it too. If nothing else, the last few pages, where she points out the impact that women have not -- yet -- had. We're closer now that we were then, but still not close enough.
Review by trilliams
16/06/2015
There are so many great points in this book - the duality of mind, forced intellectual constriction, the patriarchy's effects on creativity, even just that you should write more - and no matter what you take from it, you have to admit it's well written.<br/><br/>On a side note, "Material Girl" came on while I was reading this and it was really bizarre.
Also in the Penguin Pocket Hardbacks series | View all