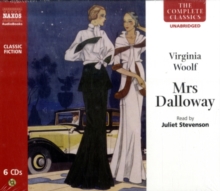 Description
Virginia Woolf's masterwork "Mrs Dalloway" was at the vanguard of experimental, modernist novel-writing, and remains one of the supreme examples today.
As Clarissa Dalloway prepares for a party in the evening, seemingly trivial incidents prompt her to undertake a searching reconnaissance into her memory, where she dwells on missed opportunities and aborted relationships.
Set during the course of 24 hours, the novel draws subtle parallels between Clarissa, a polished high-society lady, and the shell-shocked war veteran, Septimus Smith; both are similarly transfixed by their pasts.
Woolf's trademark, stream of consciousness prose masterfully captures the complex architecture of the inner life and the mind-set of inter-war society.
This beautifully articulated novel is read by Juliet Stevenson whose reading of "To the Lighthouse" has become a Naxos AudioBooks bestseller.
Other Formats
Paperback from £2.50
Hardback from £6.65
EPUB from £0.99
PDF from £1.94
Free Home Delivery
on all orders
Pick up orders
from local bookshops
Reviews
Showing 1 - 3 of 3 reviews.
Review by Smiler69
16/06/2015
All the action within this novel takes place during one day and evening as Mrs Clarissa Dalloway, an upper class woman, is first preparing for, then throws a party in the evening. While still at home before she sets out to run her errands, she is visited by Peter Walsh, a man she's known since she was a young girl and who once asked her to marry him. For the whole of the novel, we wander from one stream of thoughts to another, with Clarissa's mind wandering from the moment's happenings and backwards into the past, then without preamble we are following Peter's thoughts, then Clarissa's husband and so on, with the author's focus wandering between every person encountered in the novel. Clarissa thinks about the life choices she has made. Peter has just come back from India and is seeking a divorce from his wife now that he has fallen in love with a much younger married woman. Clarissa's husband has bought her flowers and intends to tell her he loves her, something he presumably hasn't said in a very long time. There is Doris Kilman, the teacher of Clarissa's daughter Elizabeth, who, while she venerates the young girl to a degree that borders on desire (or as much desire as a religious fanatic will make allowances for), despises her mother Clarissa for all she stands for as a society woman living a life of ease and luxury. We meet Septimus Warren Smith, sitting in the park with his wife; he is a war veteran suffering from a very bad case of shell-shock who is being treated for suicidal depression. His wife is concerned because he talks to himself and to his deceased army friend Evans, who may have been much more than just a buddy, and together they are waiting to meet a psychiatrist who will suggest a course of treatment for the young man. I had a couple of false stars with this book over the years, never making it past the first couple of pages, and must say one needs to be in the right frame of mind to fully appreciate this short, yet very profound novel. Having just finished reading <i>A Room of One's Own</i> I found myself in the right mood for more of Woolf's deep reflections on life and how we are affected by circumstances and the people we are surrounded by, whether by choice or happenstance. Once one gets accustomed to the flow of words, which doesn't follow a traditional narrative style with chapters and commentary, but pours forth in an organic way meant to mimic a real-life experience, one is transported by the portraits Woolf paints of these people, whom we get to know from the inside out, as opposed to the other way round. Because of this, there is a timeless quality to this novel, even though the events it alludes to are very much fixed in the London of the 1920s.
Review by lit_chick
16/06/2015
2010, Naxos Audiobooks, Read by Juliet StevensonI read Night and Day several months ago, quite enjoyed it, and wanted to follow it with another of Woolf's novels. I chose Mrs. Dalloway because it is the best known and most widely acclaimed. Juliet Stevenson, narrator of this Naxos Audiobook edition, is fabulous – an exquisite reader.Mrs. Dalloway is the story of a day in June 1923, as lived by Clarissa Dalloway and several other London citizens. The eponymous protagonist is a wealthy, middle-aged socialite who is planning an evening party. Running parallel to Clarissa's story is the story of Septimus Warren Smith, a shell-shocked veteran of WWI; he is withdrawn, delusional, possibly on the brink of madness. The two stories intersect at the conclusion of the novel. Themes in Mrs. Dalloway include existentialism, madness, loneliness, and fear of death.The entirely of the novel is written in stream of consciousness, which for me is both its strength and its atrophy. Woolf's prose is beautiful, and I can appreciate her genius in fusing third person omniscient point of view with first person interior monologue; but I do not enjoy this style of writing. Fleeting transitions between characters make the prose difficult to follow, and there are no breaks in the writing, chapter or otherwise. The audiobook consisted of one track of over seven hours. In addition, the novel has no discernible plot; it explores its various themes through the musings and meanderings of characters' thoughts. And, truthfully, I did not find any of the characters particularly likeable. Septimus Warren Smith promises to be at least relatable, but even he is somehow blank.I much preferred Night and Day to this later novel; the characters were decidedly more likeable and relatable, and the plot of the novel had some structure. I can appreciate Mrs. Dalloway but will not reread. I also do not widely recommend the novel, but I do recommend it to those who read strictly to observe literary form and genre.
Review by charlie68
27/08/2015
Superbly written, the prose is exquisite, but glacial pacing of the plot may bore a lot of readers. Semi- autobiographical tells more about the author than the characters, and the times in which they lived.
Also in the Modern Fiction series