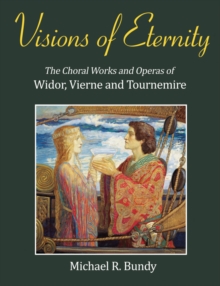 Visions of Eternity : The Choral Works and Operas of Widor, Vierne and Tournemire
Hardback
Description
Visions of Eternity is the companion volume to Prophets without Honour (Matador, 2011) which explored the forgotten melodies of Charles-Marie Widor, Louis Vierne and Charles Tournemire.
The present work continues that study but with regard to the largely unknown choral works and operas by these same composers: it also expands upon the mores of Parisian Musical society, 1870-1939, and discusses in greater detail than before the prevalent influences and restrictions, which might have had a bearing on a young composer.
Widor's printed and unpublished works are discussed, as are those of his pupil Louis Vierne alongside a more detailed, and possibly provocative, discussion of the latter's life and loves, and their relevance to that composer's compositions.
His completely unknown `cantate lyrique' Praxinoe is also revealed.
The greater part of Visions of Eternity is given over to a discussion of the influences that affected another of Widor's pupils, Charles Tournemire, in both temporal and theological terms.
His individual musical language, discussing both his use of traditional Latin and Indian chants, quixotic character and amours are also investigated.
This is a book of great musical relevance, for it deals with composers and issues which greatly influenced later French musicians, particularly Maurice Durufle, Jean Yves Daniel-Lesur, Jean Langlais and Olivier Messiaen: these, in turn, passed their knowledge to more contemporary composers.
Whilst this book has been researched in great depth, its content is delivered with a light, occasionally humorous touch.
This is not a dry, academic work, but one for both the cognoscenti and enthusiast alike.
Information
Format: Hardback
Pages: 600 pages
Publisher: Troubador Publishing
Publication Date: 06/07/2017
Category: Choral music
ISBN: 9781788037334
Free Home Delivery
on all orders
Pick up orders
from local bookshops