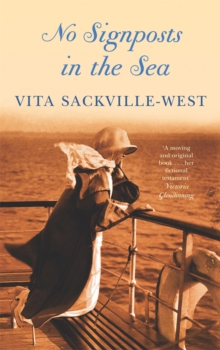 No Signposts in the Sea
Paperback
Description
Edmund Carr is at sea in more ways than one. An eminent journalist and self-made man, he has recently discovered that he has only a short time to live. Leaving his job on a Fleet Street paper, he takes a passage on a cruise ship where he knows that Laura, a beautiful and intelligent widow whom he secretly admires, will be a fellow passenger. Exhilarated by the distant vista of exotic islands never to be visited and his conversations with Laura, Edmund finds himself rethinking all his values. A voyage on many levels, those long purposeless days at sea find Edumnd relinquishing the past as he discovers the joys and the pain of a love he is simultaneously determined to conceal.
Information
Format: Paperback
Pages: 160 pages
Publisher: Little, Brown Book Group
Publication Date: 31/12/1985
ISBN: 9780860685784
Free Home Delivery
on all orders
Pick up orders
from local bookshops
Reviews
Showing 1 - 3 of 3 reviews.
Review by lauralkeet
16/06/2015
When Edmund Carr learns he has only a few months to live, he puts his affairs in order and embarks on a cruise. There he develops a close relationship with Laura, a young widow. While he knows it is pointless to even consider a romantic relationship with her, he can't help but feel attracted to her, and jealous of other suitors on board ship. The reader lives inside Edmund's head as he observes his surroundings, especially Laura, and reflects on his life.This short, contemplative novella is the last book published by Vita Sackville-West, and the setting -- a cruise ship -- one that she and her husband, Harold Nicolson, experienced several times in their last years together. Edmund's ruminations, especially those concerning romantic relationships, undoubtedly reflect the author's experience. And so this was a not unpleasant read with some poignant moments, but overall I found it just average.
Review by startingover
16/06/2015
This novel deserves to be much better known, and Vita Sackville-West deserves to be known as a quality writer. In the literary shadow of Virginia Woolf as she inevitably is, when I picked up this book I didn't expect the beautifully-written, exquisite gem I found. In it Edmund, who hasn't long to live, decides to spend his remaining days on a sea voyage, in passive pursuit of Laura, the woman he loves.Edmund, as he contemplates his imminent death, finds a hitherto unsuspected romantic sensibility. He looks back to a more peaceful, unspoilt time - the 'noble savage'. Laura, the realist, reminds him that "man today is merely an extension of what man always was, only more complicated". The other major character in this slim novel, Colonel Dalrymple, is a stereotype, although - as Edmund finds - he's hard to dislike. His purpose in the plot is to provide the other tip of the triangle, although to describe the nature of the relationship between Edmund and Laura in such terms is to do the novel a disservice. Edmund's jealousy takes him by surprise and is something he struggles, touchingly, to overcome.There is something exquisitely sad about this book. Edmund's love for Laura, and his attempts to come to terms with his love and with his impending death, are what make the book special. Edmund says, "One must believe everything, or nothing. Everything is either possible, or impossible. Miracles must be credible, or incredible." As I neared the end of the book, I found myself hoping for a miracle, but I rather knew it wasn't going to happen. [Oct 2005]
Review by edwinbcn
27/08/2015
No signposts in the sea is a book that grows on you. While the story initially seems a bit boring, and of light kaliber, the development of the relationship between the two main characters, Edmund and Laura provides depth.When Vita Sackville-West wrote this novel, her last, she was already terminally ill. She and her husband had started making cuises and voyages a few years earlier. No signposts in the sea is told from the viewpoint of Edmund, who is also terminally ill. During the voyage, Edmund comes to terms with the finality of life.The beauty of the story lies in the contrast between the finality of life and the infinity of the sea. The title, No signposts in the sea does not occur in the novel, but there is another sentence that is very similar, viz. "There are no tombstones in the sea" (p. 48). Tombstones are reminders of death. Perhaps the title should be understood as suggesting ultimate freedom, one can (still) go in any direction.The contrast between the land and the sea, is also reflected in the personality of Edmund and Laura. It has been pointed out that Edmund is an unlikely character, as he has supposedly never traveled before, although he is an expert on the Middle East. However, this objection seems very contemporary. It enforces the provincial views, the lack of openmindedness and some of the pettiness, such a jealousy or erotic fantasies which Edmund cannot see separate from his dealing with Laura. When Edmund observes the beauty of Asian men stripped to the waist, several times over the course of the novel, this is not with an erotic view, although even that idea may not be entirely impossible, but, more in the sense of estrangement, as British men of the Victorian Age and later, actually well up till today, will normally never be seen in that way. British men are fixed in a kind of formality, which excludes a free, more natural expression of physical prowess and beauty.Much of Edmund's complicated sense of being is contrasted by the much more natural, and more simple Colonel Dalrymple. However, the most spiritual of the three, is of course Laura. She has a very full, rich life experience, of which Edmund only sees a glimpse, for example when she tells him how she got through the war. To Edmund, the voyage is like a spiritual awakening, although till the very last he confuses embracing the spirit of eternity with the physical embrace of Laura.