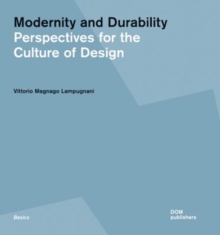 Modernity and Durability : Perspectives for the Culture of Design
Paperback / softback
Description
The orthodox concept of modernism, as it was passed on with little alteration from the 1920s to the post-war era, has been in a state of crisis for some time.
This is especially clear to see in the fields of architecture and urban design.
Meanwhile, neither postmodernism nor deconstructivism has proven to be a convincing alternative.
In this book, architectural theorist, practitioner, and historian Vittorio Magnago Lampugnani sets out to define a new form of modernism - a modernism that continues to uphold its social and humane objectives while reassessing, from the ground up, its social, technical, functional, and aesthetic parameters.
Our economic and ecological conditions have undergone radical changes.
As such, we must also adapt our needs and desires. We must consume as little as possible and produce only what is truly necessary.
At the same time, we need to preserve our autonomy and values - even as we live through the major upheavals brought on by these new requirements.
Starting from these premises, the author puts forward a new design approach that pursues - and is defined by - durability.
It is an approach that rejects the frivolous waste of resources and superficial proliferation of images that have become commonplace today.
He thus offers an alternative to the contemporary fixation on spectacles, both hollow and dangerous, and instead calls for measured restraint and substantial simplicity.
Information
Format: Paperback / softback
Pages: 112 pages, 15 images; 15 Illustrations, unspecified
Publisher: DOM Publishers
Publication Date: 03/09/2018
ISBN: 9783869227009