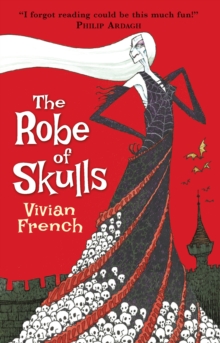 The Robe of Skulls : The First Tale from the Five Kingdoms
Paperback
Description
An exuberant, hilarious and wildly entertaining fairy tale with a cast of characters who are good, bad and very, very ugly.All is not well in the crumbling castle high above the mountain village of Fracture.
The sorceress Lady Lamorna has her heart set on a new robe.
A very expensive new robe. To get the cash she will stop at nothing, including kidnapping, blackmail and more than a little black magic.
But she reckons without the heroic Gracie Gillypot, not to mention a gallant if rather scruffy prince, two chatty bats, the wickedest stepsister ever, a troll with a grudge - and some very Ancient crones.
Information
Format: Paperback
Pages: 208 pages
Publisher: Walker Books Ltd
Publication Date: 04/06/2007
Category: Traditional
ISBN: 9780744583618
Free Home Delivery
on all orders
Pick up orders
from local bookshops
Reviews
Showing 1 - 3 of 3 reviews.
Review by Cynara
16/06/2015
The robe of Skulls is a promising start to a hinted-at series. It's set in a fairy-tale fantasy kingdom which is given a bewitching kid-goth edge by the delightful illustrations. The cover, particularly, is lucious: you can't tell from the scan, but the skulls are printed in silver foil. Our true-hearted young heroine braves perils, and we meet a solid supporting cast of bats, crones, and princes. The need to introduce all the characters and establish the settings made the climax of the book feel a bit rushed. Some of the characters felt familiar - there's more than an ounce of Cruella de Vil in the evil sorceress Lady Lamorna, and the scamp of a prince could use some more development, but I have faith that if the series continues our main characters will be well fleshed out.The dialogue is excellent, I loved the bats, and I have great hopes for following volumes. I'm giving it four stars on trust.
Review by passion4reading
16/06/2015
This is a fairy tale with a difference: we meet the evil sorceress Lady Lamorna who resorts to blackmail to pay for the dress embroidered with skulls, setting into action all subsequent events (hence the title of the book), her troll servant Gubble, the girl and trueheart Gracie Gillypot and her beautiful but evil stepsister Foyce, the slightly rebellious prince Marcus, three ancient crones who spin the web of power and some helpful bats, plus a host of other characters.While I enjoyed reading the story with my son, I didn't enjoy it quite as much as expected, having read all the favourable reviews. I also noticed that my son was occasionally distracted, having allowed his mind to wander and then had to ask questions to catch up with plot developments, even though the storyline is very easy to follow for young readers. The characters are established early on, and yet not much happens until one has passed the 100 page-mark and then it was not difficult to predict the ending. The author has got a wonderful imagination, painting a very vivid picture of the village of Fracture, the kingdoms of Gorebreath and Dreghorn and the cottage of the Ancient Crones and their various inhabitants, and introduces the reader to some marvellous characters, yet in my opinion she tries just a little bit too hard to be quirky; I found the bat Marlon with his "Ciao!" and constant "Kiddo!" especially irritating. I'm sure this is simply a matter of personal taste, as the other reviewers were perfectly enchanted by it.
Review by sraedi
16/06/2015
Remez was reluctant to give this a shot so I read it first and recommended it to her. ; )
Also in the Tales from the Five Kingdoms series | View all