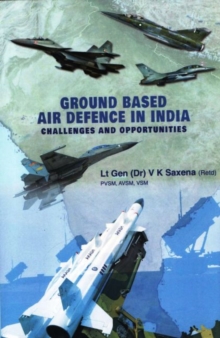 Ground Based Air Defence in India
Hardback
Description
This books presents a commentary by eminent authors covering some relevant issues in the vast domain of Ground based Air Defence (GBAD) in India. The starting Chapter traces the contours of the contemporary and futuristic air threat.
In doing so, it sets the tone for further Chapters because the raison-de-etre of GBAD is to counter the threat so defined.
The next Chapter chronicles the evolution of the GBAD concepts bringing the reader up to date with the current practices.
The next two Chapters flag the seminal need for a strong Battle Management Command and Control (BMC2) System and a fool-proof Air Space Control (ASC) system and highlight many a challenges that lie ahead in these two domains. Continuing further, the book examines the revolution brought about by the Unmanned Aerial Systems (UAS) both for the attackers, as well as, for the defenders including the latest concept of Manned and Unmanned Teaming or MUM-T for short. A case for the Ballistic Missile Defence (BMD) for India has been presented keeping in mind the prevalent and futuristic threats.
The book also strikes a cautionary note about the looming stealth threat and suggests a way ahead to address it. Dealing with ""here and now"", the challenges of sustaining a legacy inventory including a possible way out has been presented.
The book also highlights the need for simulators in GBAD. In the end, it presents a view point on the future needs of GBAD in India.
Information
Format: Hardback
Pages: 300 pages
Publisher: Pentagon Press
Publication Date: 30/11/2018
Category: Air forces & warfare
ISBN: 9789386618580