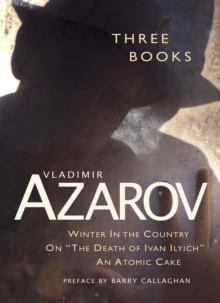 Three Books : Winter In the Country / On "The Death of Ivan Illych" / An Atomic Cake
Paperback / softback
Description
With these three books (in one) Vladimir Azarov moves toward the completion of what has turned out to be a most extraordinary 10-book autobiography, and the recollections of a young man in Moscow during the tumultuous times after Joseph Stalin's death and the days under Nikita Khrushchev, known as The Thaw.
In the first book, Winter in the Country, he imagines the enormous presence of the great poet, Pushkin, and his influence on the development of the modern Russian psyche.
Pushkin, alone out in the countryside, in Exile in his own country, and his writing that transformed the language, and thereby the peoples' perceptions of themselves, including the young Azarov.
In book two, On the Death of Ivan Illych, Azarov-who is now a professional architect-imagines himself exchanging personalities with Tolstoy's great character, Ivan Illych, who suffered and died from a terminal illness.
In the third book, Azarov explores a Moscow world of wild contradictions.
Information
Format: Paperback / softback
Pages: 276 pages
Publisher: Exile Editions
Publication Date: 30/07/2019
Category: Poetry
ISBN: 9781550968491