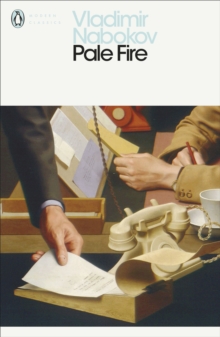 Description
The American poet John Shade is dead; murdered. His last poem, Pale Fire, is put into a book, together with a preface, a lengthy commentary and notes by Shade's editor, Charles Kinbote.
Known on campus as the 'Great Beaver', Kinbote is haughty, inquisitive, intolerant, but is he also mad, bad - and even dangerous?
As his wildly eccentric annotations slide into the personal and the fantastical, Kinbote reveals perhaps more than he should.
Nabokov's darkly witty, richly inventive masterwork is a suspenseful whodunit, a story of one-upmanship and dubious penmanship, and a glorious literary conundrum.
Information
Format: Paperback
Pages: 256 pages
Publisher: Penguin Books Ltd
Publication Date: 31/08/2000
ISBN: 9780141185262
Other Formats
Hardback from £9.45
EPUB from £3.99
Free Home Delivery
on all orders
Pick up orders
from local bookshops
Reviews
Showing 1 - 5 of 14 reviews.
Previous | Next
Review by flyingdutchman
16/06/2015
I first read this novel two years ago. While certainly appreciating it back then it struck me on more levels when reading it now, anno 2007. The many subtle references and puns can only be followed upon rereading; something Nabokov must have purposely designed.Pale Fire is one of the more difficult novels I've ever read, but if you adhere to someone's famous motto "stay the course" you"ll find some nice treasures at the bottom of the rainbow. Especially recommended for readers interested in Postmodern fiction, cybertext and literary criticism.
Review by catherar
16/06/2015
I never could have imagined a poem and its subsequent (and lengthy) review to be so rivetting, haunting, and delightful! This is a most creative book, down to its very structure. Nabokov is a genius. There is nothing more to say.. except, read it!
Review by librarianbryan
16/06/2015
A very thought provoking read, but a lot of style and (maybe) not a lot of substance. I needed a lot of outside sources to decode of the games Nabokov was playing. Intensely funny though.
Review by RubyA
16/06/2015
I vow to get back to this book and complete it!
Review by nostalgebraist
16/06/2015
I will wake up at six a.m. again
and I will find my way to the front door
like a soldier crawling through the smoking carnage
smoldering bodies at my feet
I'd love to stick around, but I've got someone to meet
and I will put my best foot forward
and I'll thank god I made it out of there
on the day when my new friends come

I will present myself in my nice white tuxedo jacket
and I will look out at the day through my dark sunglasses
and take in the scene
the house behind me and the people in it
will all go up like steam in just a minute
there's gonna be a redefining of some borders
and I will receive my orders
on the day when my new friends come

the rooftops and the sidewalks
will all melt like plastic
and oh friends, old friends, dear friends
I'm gonna look fantastic

there won't be any reason left to cry
'cause there won't be any people left to cry for
my memory's gonna vaporize itself
and my italian shoes, well, they will be to die for
I believe I can fly
might you look up at me and wave goodbye
on the day when my new friends come?

-The Mountain Goats, "The Day The Aliens Came"

(This book is pretty good. Not his best.)
Also in the Penguin Modern Classics series | View all