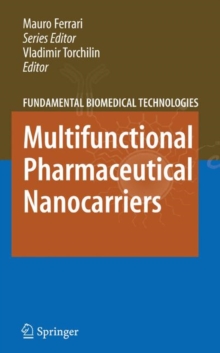 Multifunctional Pharmaceutical Nanocarriers
Hardback
Description
The use of various pharmaceutical carriers to enhance the in vivo efficiency of many drugs and drug administration protocols has been well established during the last decade in both pharmaceutical research and clinical setting.
Surface modification of pharmaceutical nanocarriers, such as liposome, micelles, na- capsules, polymeric nanoparticles, solid lipid particles, and niosomes, is normally used to control their biological properties in a desirable fashion and to simulta- ously make them perform various therapeutically or diagnostically important functions.
The most important results of such modification include an increased stability and half-life of drug carriers in the circulation, required biodistribution, passive or active targeting into the required pathological zone, responsiveness to local physiological stimuli, and ability to serve as contrast agents for various imaging modalities (gamma-scintigraphy, magnetic resonance imaging, computed tomography, ultra-sonography). Frequent surface modifiers (used separately or simultaneously) include soluble synthetic polymers (to achieve carrier longevity); specific ligands, such as antibodies, peptides, folate, transferrin, and sugar moieties (to achieve targeting effect); pH- or temperature-sensitive lipids or polymers (to impart stimuli sensitivity); chelating compounds, such as EDTA, DTPA, and deferoxamine (to add a heavy metal-based diagnostic/contrast moiety onto a drug carrier).
Certainly, new or modified pharmaceutical carriers (nanocarriers) as well as their use for the delivery of various drugs and genes are still described in many publications.
Information
Format: Hardback
Pages: 474 pages, XIV, 474 p.
Publisher: Springer-Verlag New York Inc.
Publication Date: 19/05/2008
Category: Nanotechnology
ISBN: 9780387765518
Free Home Delivery
on all orders
Pick up orders
from local bookshops
Also in the Fundamental Biomedical Technologies series | View all