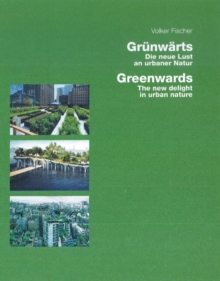 Greenwards / Grunwarts : The New Delight in Urban Nature / Die Neue Lust an Urbaner Natur
Hardback
Description
Text in English & German. The inhabitants of our cities have undoubtedly come down with a gardening virus.
Gardening is being propagated as the new sex. Wherever one looks, a gardening euphoria is in bloom.
We only have to think of the riverbanks restored to their natural state, the urban gardening and urban farming projects springing up all over the world, the green skyscrapers (prospective and actually built) such as, for instance, the utopian farmscrapers of Vincent Callebout, the conversion of former high rail lines into green recreation spaces, the meditation gardens of Piet Oudolf, and the vertical gardens of Patrick Blanc.
We dwell on the growing and sprouting, on the sowing and harvesting, with a kind of covert pleasure and sublimated erotic desire.
These days, we feel close to greenery, just as we feel close to our pets.
We tend and nurture the seeds and stalks, the leaves and flowers, the shrubs and grasses, the bushes and trees, with a matchless solicitude.
These culturally coded natural phenomena also have therapeutic qualities, because they offer us self-determination and the possibility to share in social development. This is nothing less than the reintegration of the first, primal nature into the context of the conditions that have become ubiquitous today into the context of what has, today, become 'second nature'.
For some people, such as the campaigners of 'Guerilla Gardening', these plants, wild and domestic, provide a way of criticizing the system; others, such as vertical planners of wall gardens like Ken Yeang, utopia-infatuated and bitten by the green bug, presumably see themselves as an avant-garde working in harmony with the system.
All of those coming down the garden virus, however, have in common that they see themselves as reformers, as campaigners and as voices arguing for a reconciliation the first and the second, ubiquitous urban, nature, but also between the ecology and the economy.
Volker Fischer was deputy director of the Deutsches Architekturmuseum in Frankfurt am Main for over ten years.
From 1994 to 2012 he has built up a new design department at the Museum for Applied Arts in Frankfurt.
At the same time, he taught on the history of architecture and design at the Hochschule fur Gestaltung in Offenbach. Fischer is already represented in Edition Axel Menges by books on Stefan Heiliger, Richard Meier, Stefan Wewerka, the Commerzbank in Frankfurt am Main by Norman Foster, Hall 3 of Messe Frankfurt by Nicholas Grimshaw, on 'beauty design' as well as on the design activities of Lufthansa and Apple.
Information
Format: Hardback
Pages: 72 pages, 19 colour illustrations, 60 colour illustrations
Publisher: Edition Axel Menges
Publication Date: 31/03/2015
Category: Architecture
ISBN: 9783936681925