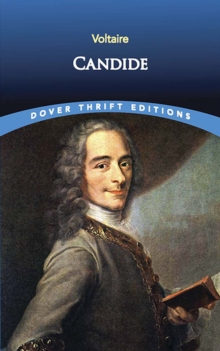 Description
Witty and caustic, Candide has ranked as one of the world's great satires since its first publication in 1759.
In the story of the trials and travails of the youthful Candide, his mentor Dr. Pangloss, and a host of other characters, Voltaire mercilessly satirizes and exposes romance, science, philosophy, religion, and government.
Information
Format: Paperback
Pages: 112 pages
Publisher: Dover Publications Inc.
Publication Date: 01/01/1991
Category: Classic fiction (pre c 1945)
ISBN: 9780486266893
Other Formats
Paperback from £2.50
Hardback from £5.55
EPUB from £1.81
Paperback / softback from £14.35
Free Home Delivery
on all orders
Pick up orders
from local bookshops
Reviews
Showing 1 - 5 of 24 reviews.
Previous | Next
Review by MorHavok
16/06/2015
Candide holds up admirably for being a couple centuries old. It is also one of the easier reads I have had in a while. The novel follows the life of Candide, a young man whose candid nature and inexperience leads him to a more adventurous life than any of us could hope for. From his homeland of Germany, to the Andean Mountains of Peru Candide follows a path that gives him some of the greatest highs and greatest lows. He loses and gains companions throughout his journey, yet ultimately comes to his own understanding of the world. The novel is full of outdated references, which the book was pretty good at explaining. But the humor is sometimes lost. The character development is there, but since the book doesn't really go into detail its not exactly good. The characters are all amusing in their different perspectives and philosophical insights. Candide is definitely worth a read since its under 100 pages. It shouldn't take more than a week to read, which is all easy. You don't have to study over notes to understand what is happening at all. Probably a good books to get people interested in classics. Favorite Quote: "Why should you think it so strange that in some countries there are monkeys which insinuate themselves into the good graces of the ladies; they are a fourth part human, as I am a fourth part Spaniard." (38)
Review by Sovranty
16/06/2015
A voluntary read, I quickly discovered why this book is considered a classic. The cynicism was quaintly balanced with a bit of humor. The prose and plot have been unforgettable.
Review by funfunyay
16/06/2015
A very thoughtful and socially relevant critique of certain philosophies. Bitingly funny at times, and quietly tragic at others, it is easy to see why it has become a classic. However, it doesn't seem to me to present any alternatives to what it criticizes - as much as the Leibniz-style optimism is unfounded and dangerous, it gave me a bit of an empty feeling when I was finished. If you deconstruct the fallacies of one or another worldview, you had better have your own worldview ready to bring forward. Candide is essentially a negative novel, it dismembers what is bad or false rather than affirming or promoting what is good or true. It is like an Anti-War rally rather than a Peace rally. While I think it was essential of Voltaire that he fight the forces of Absolute monarchy and rationalism, this is not a novel to build a society on.
Review by tundranocaps
16/06/2015
Reading it for school.Not too bad, considering it's a satire about an era we do not live in (even if I'd studied it, and the notes explain the more obscure mocked ones).Too many farcical moments, where he does not press a point, but hammer it into oblivion.
Review by kasualkafe
16/06/2015
A quick read... easy to follow. To get the most out of the book I went to sparknotes.com and for free was able to get synopsis of each chapter to help explain some of the satrical quips and the specific incidents or practices Voltaire rendered ridiculous.
Also in the Dover Thrift Editions series | View all