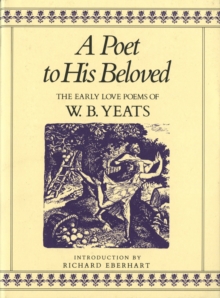 A Poet to His Beloved : The Early Love Poems of W.B.Yeats
Hardback
Description
As a young man, William Butler Yeats was deeply affected by the idea of romantic love, or, as he called it, "the old high way of love." Characteristically, much of his early poetry that which was written prior to 1910, is poetry that belongs to courtship.When Yeats was twenty-three years old, he met and fell in love with the beautiful Irish nationalist, Maud Gonne.
Although she repeatedly refused to marry Yeats, Maud would become the object of his passion and his poetry.
The emotional power in many of Yeats' early poems is shaped by the one-sidedness of his affair with Maud, but the poems themselves remain hopeful and bitter-sweet, pure in their language and attitudes about love.The forty-one poems collected in A Poet to his Beloved represent some of Yeats's most evocative and passionate early love poems.
These versed are simple, lyrical, and often dreamy, and they speak knowingly of innocence and beauty, passion and desire, devotion and the fear of rejection.
Information
Format: Hardback
Pages: 80 pages, b&w illustrations throughout
Publisher: St Martin's Press
Publication Date: 15/11/1985
Category: Poetry by individual poets
ISBN: 9780312619862
Free Home Delivery
on all orders
Pick up orders
from local bookshops
Reviews
Showing 1 - 4 of 4 reviews.
Review by a211423
16/06/2015
Collection of love poetry with introduction by Richard Eberhart
Review by Neutiquam_Erro
16/06/2015
I purchased this slim little hardcover volume as a romantic gift on St. Valentine's day. Its attractive Victorian styled jacket, and artificially yellowed pages, along with the eye-catching, if poorly reproduced, artwork scattered throughout, seemed just the thing to set my love's literary heart on fire. I should, perhaps, have read the very brief introduction prior to purchase.Yeats seems to have had a rather severe case of youthful angst, being rejected by Maud Gonne, a local beauty, it would seem. The poetry, pretty much all 41 poems, while beautiful, lyrical and emotionally-charged, is that of a young man of unrequited passions. If you are looking for the bittersweet emotions of love, the sorrows of love never gained, the pleading heart that doesn't know if love is heaven or hell and the poet who wishes his lover dead or in his arms, you have the right book at hand. While this is a fine example of romantic poetry, if you're looking to cheer up your own lover, you may want to steer clear of this book and get flowers or chocolate instead.That said, it's a very pretty little book and if you're feeling unlucky at love, this may resonate with the inner turmoil roiling in your soul.
Review by gbill
16/06/2015
This little book from St. Martin's Press has a wonderful form factor and is from the series that included Browning's "Sonnets from the Portuguese". "A Poet to His Beloved" contains 41 selections from Yeats that concentrate on his early years and love poetry. As Yeats had his share of heartbreak with love and rejection from Maud Gonne, a full spectrum is represented:- The magical place that is true love in "The Indian to His Love"- Adulation in "He Gives His Beloved Certain Rhymes" and "The Cap and Bells"- The perceived uniqueness of a powerful love in "The Ragged Wood", with its last line "No one has ever loved but you and I."- Impatience leading to ruin in "Down by the Sulley Gardens"- The love that slipped away as illusory in "The Song of Wandering Aengus"- Wanting another chance in "The Lover Tells of the Rose in His Heart"- The acceptance of love lost in "Ephemera" and "Into the Twilight"- Forgetting one's troubles, brooding, and loneliness in "Who Goes With Fergus?"- Never being able to forget in "The Lover Mourns for the Loss of Love"- A plea to remembering fondly the one that loved you best in "When You Are Old", and a promise to always find her beautiful despite aging in "The Lover Pleads with His Friend for Old Friends".This poetry is apparently thought to be less refined by critics, but for my part, the words rang true, brought emotion to the surface, and reminded me of the commonality of feelings in lovers from time immemorial – all signs of great art. Favorites (other than "When You Are Old", which I extracted elsewhere):<B>Who Goes With Fergus?</B>Who will go drive with Fergus now,And pierce the deep wood's woven shade,And dance upon the level shore?Young man, lift up your russet brow,And lift your tender eyelids, maid,And brood on hopes and fear no more.And no more turn aside and broodUpon love's bitter mystery;For Fergus rules the brazen cars,And rules the shadows of the wood,And the white breast of the dim seaAnd all the dishevelled wandering stars.<B>He Wishes for the Cloths of Heaven</B>Had I the heavens' embroidered cloths,Enwrought with golden and silver light,The blue and the dim and the dark clothsOf night and light and the half-light,I would spread the cloths under your feet:But I, being poor, have only my dreams;I have spread my dreams under your feet;Tread softly because you tread on my dreams.
Review by unclebob53703
16/06/2015
My favorites of all his poems, nice little book