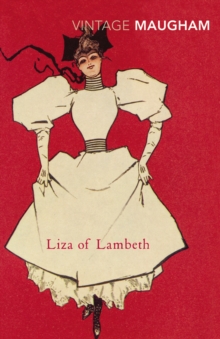 Liza of Lambeth
Paperback
Description
Down among the drab slums of Lambeth, eighteen-year-old Liza is the darling of Vere Street.
Vibrant and bewitching, she is adored by the steady, loyal Tom.
But then Liza meets Jim Blakeston, charming and worldy, new to the area, and married.
Soon the streets are wise to their passionate affair and Liza's fall from grace is fast and fatal.
Written while Maugham was a medical student, and his first published novel, "Liza of Lambeth" is a vividly realistic portrayal of working-class London life.
Information
Format: Paperback
Pages: 144 pages
Publisher: Vintage Publishing
Publication Date: 04/05/2000
Category: Classic fiction (pre c 1945)
ISBN: 9780099282747
Other Formats
EPUB from £1.81
eAudiobook MP3 from £8.36
Hardback from £11.79
Paperback from £7.00
Free Home Delivery
on all orders
Pick up orders
from local bookshops
Reviews
Showing 1 - 2 of 2 reviews.
Review by edwinbcn
16/06/2015
Liza of Lambeth, Somerset Maugham debut novel is a bit of a pot boiler, however, it is interesting to readers of the author's work as, in essence, in already contains the theme of his opus magnum of human bondage.This short novel tells the story of Liza in a melodramatic way. Set in a poor part of London, Liza and her friends and relatives belong to the working class, living in poverty and raising large families. Although Liza has a quick flirt with Tom, she is much more attracted to Jim, who seduces her are involves her in an adulturous relationship. The growing jealousie of Jim's wife frightens Liza, but Jim's confidence gives her a false sense of security. However, Jim's wife confronts Liza, shaming her in public. Despite everything, Tom still loves Liza, but Liza feels she is doomed, as she is pregnant with Jim's child. Jim turns on his wife, beating her, which frightens Liza even more, although wife beatings are shown to be a common occurrance in the novel. In the end, Liza dies after a miscarriage.Liza of Lambeth is a melodramatic portrayal of life in poverty-stricken London at the beginning of the Twentieth Century. In the working class milieu of the novel, the men are mainly portrayed as brutes, while the women are passive and frail, and subjected to their passions. The novel is clearly related to the atmosphere in the plays of George Bernard Shaw and the naturalist novel on the continent, such as Zola.The novel is deterministic in the sense that it suggests that the women have no choice. Liza is driven to her doom following her passion for Jim, and shame seems to keep her from reaching out to Tom, whose helping hand is streched out no matter what happens. Jim's wife holds on to her husband despite his adulterous behaviour and beating her. The novel seems to suggest that her loyalty to her husband is more than matrimonial duty, and that despite all, she probably still loves him.Although the novel displays interesting aspects, particularly in relation to later work by the author, the reading of Liza of Lambeth is not immediately rewarding. The pervasive Cockney accent makes the novel a bit difficult to read.
Review by zasmine
16/06/2015
Liza of Lambeth is absolutely not the book to taste Maugham's writing. I understand that this was his first book and that is probably the reason I picked it up and I usually like to disprove writer's 'best sellers'. Well, I was wrong. Liza is charming, some of her attributes are endearing, like her engaging with the children of the street,