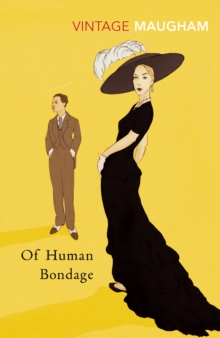 Of Human Bondage
Paperback
Description
"Of Human Bondage" is the first and most autobiographical of Maugham's masterpieces.
It is the story of Philip Carey, an orphan eager for life, love and adventure.
After a few months studying in Heidelberg, and a brief spell in Paris as would-be artist, Philip settles in London to train as a doctor. And that is where he meets Mildred, the loud but irresistible waitress with whom he plunges into a formative, tortured and masochistic affair which very nearly ruins him.
Information
Format: Paperback
Pages: 704 pages
Publisher: Vintage Publishing
Publication Date: 26/02/2000
Category: Classic fiction (pre c 1945)
ISBN: 9780099284963
Other Formats
Hardback from £11.25
Paperback from £4.99
EPUB from £3.60
Free Home Delivery
on all orders
Pick up orders
from local bookshops
Reviews
Showing 1 - 3 of 3 reviews.
Review by soylentgreen23
16/06/2015
I have loved in the same broken way that Philip, for a long time in this epic tale, loved Mildred. Had I read this book some years ago it is possible that I might have spared myself some considerable heartache; as it is, at least the heartache I have suffered I can now place in context, and move on."Of Human Bondage" is like a summary excelsior of all of Maugham's major themes: life in Europe, the poverty line, artists struggling to come to terms with art, and of course the theme of broken or damaged love. There are shades of his other novels here too: Strickland, the artist extraordinaire from "The Moon and Sixpence" is mentioned in all but name.It took me a long time to get into this book - almost too long. I struggled through the first couple of hundred pages, but once I was started and attuned to the book's style, I raced towards its conclusion. I now know the reason for this struggle - the other Maugham books I have so fallen in love with all included a narrator, a distanced observer whose life was of some interest, and who could impartially - or not - relay the events to the reader with his magnificent prose, and set things in their proper historical context. That is why I like "The Razor's Edge" so much, and why, if I had to chose somebody from fiction to be, I would want to be Maugham's narrator.
Review by nigeyb
16/06/2015
Like life at its best, this book is long and sprawling, combining themes that inspired in me delight, curiosity, insight, frustration, melancholy, and revelation.Philip's tale, which mirrors Maugham's own life, is a journey I feel privileged to have shared. This is a long book and so something of an undertaking however I felt joy and satisfaction having just completed this book. There were parts of the book that I was bored and frustrated by however I am very pleased I stuck with it. This is the third book I have read by W Somerset Maugham, and follows Ashenden and Christmas Holiday which were both excellent. I am now intent on reading all his works. Unlike many of his contemporaries he wrote in a simple and accessible style, eschewing Modernist experimentation, and his books are all the better for it. I would not recommend this as a starting point for someone new to Maugham, however I now fully appreciate why many describe it as his masterpiece as it's touching, profound, and beautiful.
Review by lkernagh
27/08/2015
EM Forster once wrote: "The final test of a novel will be our affection for it, as it is the test of our friends, of anything else that we cannot define." Good point. I have a bit of a love/hate relationship with this book. While it didn't win my affection, I will give Maugham some admiration for being able to capture and portray the essence of his characters so well. I absolutely despised Mildred and found Philip at time equally frustrating/infuriating. At least Maugham's writing style is geared towards the everday reader, which I found to be a bonus as nothing turns my mind off a novel faster than going all high-brow with elegant writing unless it fits with the story. [Of Human Bondage] is not an elegant story washed in filtered lighting. It has a directness to it that would be at odds with any flowery prose. I also found the story to be at times overly melodramatic, but my impatience with the melodrama was at part being fueled by my loathing of the whole Mildred/Philip scenario that just wouldn't end. Thank goodness for the entrance of Athelny and his family - which had me thinking about H.E. Bates' [The Darling Buds of May] - as a nice jolt of sunshine to what was becoming a rather dour read for me. I read the first 40% of the book as a e-read before flipping over to audiobook. This story definitely worked better for me in audio format - as do most of the classics I have tackled of late - so kudos to Crossley for managing to draw me back into a story that was doomed to be a long drawn out reading affair for me. What I didn't know until after I had finished reading the story is that Maugham wrote the manuscript when he was only 23 years old and was fresh out of medical school. I had read somewhere that some view [Of Human Bondage] to be the most autobiographical of all of Maugham's works but I had always assumed that the story had been written closer to its publication date when Maugham was in his mid to late-30's. Overall, I am glad to be able to cross this title off my "Classics still to read" list.