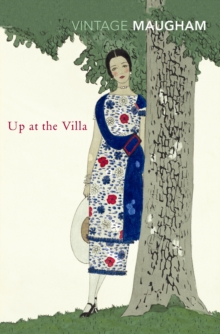 Up at the Villa
Paperback
Description
Mary Panton walls up her desires in a beautiful villa high up in the hills above Florence, as she calmly contemplates her disastrous marriage.
But a single act of compassion begins a nightmare of violence that shatters her serenity.
She turns for help to the notorious Rowley Flint, and through him comes to realise that to deny love, with all its passions and risks, is to deny life itself.
Information
Format: Paperback
Pages: 128 pages
Publisher: Vintage Publishing
Publication Date: 02/12/2004
Category: Classic fiction (pre c 1945)
ISBN: 9780099478324
Free Home Delivery
on all orders
Pick up orders
from local bookshops
Reviews
Showing 1 - 3 of 3 reviews.
Review by Elphaba71
16/06/2015
Loved this novella by W. Somerset Maugham. Beautifully written didn't want it to end.
Review by nigeyb
16/06/2015
A pleasing - if slight - tale. This is the fourth book I have read by W. Somerset Maugham, and follows Of Human Bondage, Ashenden and Christmas Holiday which were all excellent. I am now intent on reading all his works. This is a long short story, or a short novel, and I read it in less than a day, and really enjoyed it. The other books I have read by W. Somerset Maugham were, to one degree or another, autobiographical. I doubt this contains any biography - although the location (Florence and the surrounding countryside) are doubtless drawn from first-hand experience.The story manages to touch on love, tragedy, violence, loyalty, career, responsibility, politics, and refugees. W. Somerset Maugham manages to pack a lot of plot into just 120 pages.
Review by Widsith
16/06/2015
I remember being in a café with a friend once when a guy walked in who obviously had some kind of mild disability to do with his legs – he hobbled over to a table and sat down heavily, and then looked around him at the greasy spoon with an air of deep depression. Amy stared at him and sighed and said, 'I wish I was really really pretty so I could be a little moment of happiness in his day.' I remember being surprised, because it sounded, somehow, like something a female character would say in a book written by a male author, rather than in real life.This sort of cool assessment of how the other sex might see you is quite hard for anyone to pull off; and also, men and women experience it very differently. Hence you often hear men (Kingsley Amis among others) complaining that they can't understand why women find it so offensive to be seen as a sex object when they'd <i>love</i> to be seen that way – apparently not grasping the possibility that it's a lot easier to enjoy some well-intentioned sexual objectification if you're not being subjected to it 24/7 by society at large.I am thinking about all this because <i>Up at the Villa</i> involves a character who has a similar impulse of – well, call it generosity or condescension, depending on your mood – concerning her own attractiveness, and which proves pivotal to the plot. She's a young window, who's just had two proposals of marriage, and doesn't feel particularly inspired by either of them. But it's made her very aware that she has something men want.<i>'I should be a fool if I didn't know I was prettier than most women. It's true that sometimes I felt that I had something to give that might mean a great deal to the person I gave it to. Does that sound frightfully conceited? […] My poor Rowley, you're the last man I would ever have had an affair with. But I've sometimes thought that if I ever ran across someone who was poor, alone and unhappy, who'd never had any pleasure in life, who'd never known any of the good things money can buy – and if I could give him a unique experience, an hour of absolute happiness, something that he'd never dreamt of and that would never be repeated, then I'd give him gladly everything I had to give.'</i>If you're objecting that this sounds unworkable, or patronising, or that sex should be a mutual experience rather than something 'given' by a woman to a man, then this slim novella may well be for you, because it explores the possible consequences of this attitude in detail – not without a considerable touch of melodrama, but nonetheless in a way that raises some interesting issues.The setting is the hills around Florence, sparsely but nicely described, and the period is apparently just before the Second World War, or possibly sometime near the beginning of it. The war itself is never mentioned, but the setting must be after 1938 because one character has fled Austria after the Nazi invasion, two of his friends having been shot in the process. ('It all sounds rather horrible,' comments our heroine…um, well yes, Mary, I suppose that's one way to describe the <i>Anschluß</i>, yes, 'rather horrible'.)Sexual politics among wealthy Brits abroad might sound like the height of inconsequential bullshit, but although this is a little heavy-handed in parts, I thought it was enjoyable. It's slight enough that you can bomb through the whole thing in a ninety-minute train journey – from King's Cross to Lincoln Central, say, including a change at Newark – and it makes me interested to read some of Maugham's better-known works.