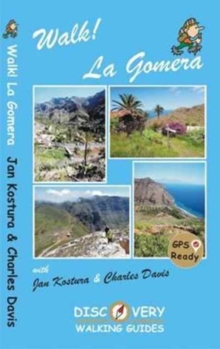 Walk! La Gomera
Paperback
Description
La Gomera is the ultimate get-away-from-it-all island: easy-going, unspoilt, friendly, isolated from the hustle and bustle of modern living, and so laid back it's virtually supine - even the volcanoes have been dormant for millions of years.
The walks, however, are a bit more energetic. For the new 4th edition of Walk! La Gomera Charles Davis has teamed up with Jan Kostura.
Jan brings his wide experience and passion for the Canaries, checking, re-walking and revising existing routes, and adding a couple of his own adventures, including a new Top Three Gomeran walk.
Two routes have been dropped as having become too dangerous, but the good news is that many of the more harum-scarum walks have been improved through path clearing and the addition of railings to the vertiginous stretches.
Other good news is that the devastating forest fires of 2012 have proved not nearly as damaging as we feared, leaving most of our itineraries unscathed.
In short, there is every reason to take off and explore La Gomera, or to return with this new edition to revive acquaintances and make some new discoveries at the same time.
All the trails have been surveyed and mapped using GPS satellite navigation.The authors and their co-walkers have walked all these routes, ensuring accuracy and up to date information for hikers. Clear descriptions guide the walker both to the starting point and throughout the routes, with gradings, distances, timings and altitudes all symbolized, as are vertigo alerts and refreshment possibilities on or at ends of the routes.
There are 34 detailed walking adventures with routes ranging from a couple of 90 minute 4 kilometre walks, up to challenging trails taking over 6 hours, covering 20 kilometres including ascents & descents of 1060 metres.
Each route includes its own map sections with the route and waypoints clearly marked.
Map sections are developed from the La Gomera Tour & Trail Super-Durable Map, the most up to date and toughest map of the island.
GPS waypoint files for all the 34 routes are available in three formats as a free zip file download from the Discovery Walking Guides website.
Information
Format: Paperback
Pages: 160 pages, 30k scale colour maps and colour pictures
Publisher: Discovery Walking Guides Ltd
Publication Date: 20/01/2017
Category: Walking, hiking, trekking
ISBN: 9781782750352
Free Home Delivery
on all orders
Pick up orders
from local bookshops