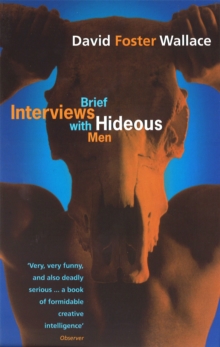 Brief Interviews With Hideous Men
Paperback
Description
In his startling and singular new short story collection, David Foster Wallace nudges at the boundaries of fiction with inimitable wit and seductive intelligence. Among the stories are 'The Depressed Person', a dazzling and blackly humorous portrayal of a woman's mental state; 'Adult World', which reveals a woman's agonised consideration of her confusing sexual relationship with her husband; and 'Brief Interviews with Hideous Men', a dark, hilarious series of portraits of men whose fear of women renders them grotesque.
Wallace's stories present a world where the bizarre and the banal are interwoven and where hideous men appear in many different guises. Thought-provoking and playful, this collection confirms David Foster Wallace as one of the most imaginative young writers around. Wallace delights in leftfield observation, mining the ironic, the surprising and the illuminating from every situation. His new collection will delight his growing number of fans, and provide a perfect introduction for new readers.
Information
Format: Paperback
Pages: 288 pages
Publisher: Little, Brown Book Group
Publication Date: 18/01/2001
Category: Anthologies (non-poetry)
ISBN: 9780349111889
Free Home Delivery
on all orders
Pick up orders
from local bookshops
Reviews
Showing 1 - 5 of 6 reviews.
Previous | Next
Review by roblong
16/06/2015
You don't read much like this - every story is an experiment in style and overflowing with brilliantly marshalled ideas. It doesn't always work - one story, written in Clockwork Orange-esque language didn't work for me at all - but most of the time it does and it is always challenging and surprising, and often very funny. One story in particular, 'The Depressed Person', goes straight into my personal list of favourite short stories.
Review by alexrichman
27/08/2015
Excellent in parts, with the interviews, footnotes and predictions of future techno-sexuality borrowing heavily from Infinite Jest. The more experimental passages were just too much for me - but when he's in full flow, Foster Wallace is peerless.
Review by KRaySaulis
16/06/2015
Did you know David Foster Wallace wrote about you? He wrote about me, too. Don't worry, I didn't know it either. But he wrote about me all through this book. The parts of myself that I hide, the features I don't want. Even some things that aren't about me but I fear others think might be. Sometimes it was too much, too revealing. Other times it was refreshing, comforting... Perhaps even a relief. Go ahead, find some relief in this book. You'll find yourself somewhere in it. Examine your flaws and maybe you can learn to be okay with them.
Review by Gregorio_Roth
16/06/2015
A great book full of psychotic men that reveals a truth that is terrorizing.
Review by Gregorio_Roth
16/06/2015
A great book full of psychotic men that reveals a truth that is terrorizing.
Also by Wallace David Foster