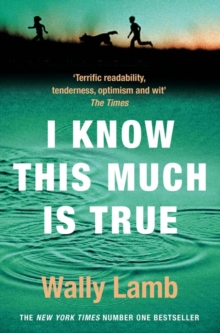 I Know This Much is True
Paperback
Description
Huge American bestselling novel that tells of identical twins: a paranoid schizophrenic and his brother whose life is dominated by his resentment of and love for his damaged twin Dominick Birdsey's whole existence is coloured by the knowledge that his twin brother can never be fully responsible for his frightening behaviour, while he himself has beaten the biochemical odds to remain sane.
But at what cost? This powerful, heartwrenching drama draws on the deepest human emotions: the need to know oneself, responsibility to family, the influence of hidden history.
The result is a highly acclaimed novel of survival, written with great sensitivity.
Information
Format: Paperback
Pages: 912 pages
Publisher: HarperCollins Publishers
Publication Date: 01/04/2000
ISBN: 9780006513230
Other Formats
EPUB from £6.99
eAudiobook MP3 from £11.24
Free Home Delivery
on all orders
Pick up orders
from local bookshops
Reviews
Showing 1 - 5 of 7 reviews.
Previous | Next
Review by jsullins
16/06/2015
I love this story, I am in love these characters. I drool over psychology and the mystery of schizophrenia. This book provides an imperative insight on how it feels to be closely connected to the mentally ill. Everything falls into place just a bit too neatly..that which I love and hate at the same time. Don't judge a book by its Oprah's Book Club sticker.
Review by bethmal
16/06/2015
I love this book. I really got into She's Come Undane and this one did not disapoint!
Review by Clurb
16/06/2015
This is a large, wordy but very comprehensive and involved book telling the story of Dominick, an identical twin, struggling to cope with his brother's schizophrenia. There are some wonderful and original characters here, who grow and unravel as the story progresses and we learn more of their shared history. Dominick, in particular, is a protagonist and narrator who is just as easy to hate as to love. The feeling of resolution at the end of the novel, together with the circular nature of the twins' family history were particular highlights that go towards making this such a marvellous read.
Review by wingednikki
16/06/2015
I loved it. I never lost interest, not even for a second. I enjoyed the complex characters and how thier lives changed and twisted together. Most of all I loved that it made me laugh out loud and also I thought the story was realistic. i could see these events in actuality.
Review by girlunderglass
16/06/2015
I don't know what I can say about this book that will make you go and read it NOW. I wish you would just go and read it because I said so, but that's not how these things work. So I'll start by stating boldly that I haven't read anything this good in a very long time. Although I'm not sure it's the best way to go with this one, let me lay out the plot for you a bit. [I Know This Much Is True] is essentially the story of two brothers: Dominick - our protagonist and narrator - and Thomas, his schizophrenic identical twin. They do not know who their real father is and their stepfather is...well...let's just say he's not a role model. Their family history is a big mystery. And their lives are pretty much as f***ed up as they can get. Sounds like a big cliché? If only all books were such stunning and heartbreaking clichés. Like all amazing works of literature, [I Know This Much Is True] contains little glimpses of <i>life itself</i>, scattered all over the place. Reading the words on every page feels a bit like sucking on your favorite lollipop - you just have to stop every now and then, the better to savour its taste. Me, I had to pause a bit after each paragraph. As soon as I started it I knew it would be one of those books...the ones you're sad to say goodbye to, the ones you want to keep reading forever. The storytelling is fantastic, nothing overdone, but nothing understated either. The plot is compelling and believable, the conclusion is realistic yet extremely touching, and the characters simply steal your heart. Not one person feels secondary in this book; everyone has a role, everyone has a story, there are no peripheral "flat" characters that are just there to fill a void. The book manages to discuss and explore religion, racism, identity, education, politics, war, parentage, jealousy, immigration, history, and pretty much everything in between. Also, bonus points go to the writer for the effort he has put into researching the issues that the book explores: Lamb has evidently done his homework on schizophrenia, on twin brothers. on the Italian immigration to America, on psychoanalysis, on the history and geography of the area where he places his characters and weaves his story. Like many reviewers of this book have done before me, I urge you not to be put off by its size. Believe me, as soon as you start reading it, you will <i>want</i> it to be long. There are about 5 novels that can brag about having made me cry. This is one of them. Opening sentence: "<i>On the afternoon of October 12, 1990, my twin brother Thomas entered the Three Rivers, Connecticut Public Library, retreated to one of the rear study carrels, and prayed to God the sacrifice he was about to commit would be deemed acceptable.</i>"