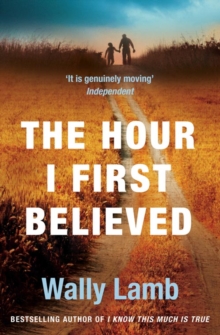 The Hour I First Believed
Paperback
Description
From the author of the international number one bestseller I KNOW THIS MUCH IS TRUE comes a magnificent novel of a life turned upside-down by tragedy - and the search for a way to carry on in the aftermath.Caelum Quirk is a middle-aged schoolteacher.
Students at Columbine High School generally respect him and turn to his wife Maureen, the school nurse, when in trouble.
When he has to return to his home town for the funeral of his beloved aunt, Maureen promises to join him the next day - but she goes to work that morning, and that's when the shootings happen.
She hides in a cupboard, unable to see what's happening, but listening to the students being taunted, then killed.Life can never be the same again.
In the face of Maureen's trauma, Caelum searches for meaning, delving into his own family history and discovering that nothing was as he's always been told.
As the couple inch towards recovery and suffer setbacks, the stories of Caelum's redoubtable ancestors illuminate how he came to be the man he is, and how he and Maureen might live in the future with freedom and dignity.
With no easy answers, Caelum gradually comes to an understanding of who he really is and what he can believe in.
Information
Format: Paperback
Pages: 640 pages
Publisher: HarperCollins Publishers
Publication Date: 25/10/2008
ISBN: 9780007290802
Free Home Delivery
on all orders
Pick up orders
from local bookshops
Reviews
Showing 1 - 5 of 7 reviews.
Previous | Next
Review by Booksloth
16/06/2015
Recently I read a book called [The Shack] by William P Young. It was supposedly about why bad things happen to good people and it left my feeling as if I'd spent two days eating meringues. Now, if you really want to read about why bad things happen to good people, this is the book you should invest in, although at first I was a little put off by the title as it sounded horribly as if it might be another 'shack' in Lamb's clothing. I was wrong. Lamb is unafraid to tackle the really big themes; the book covers the Columbine shootings, 9/11, the Vietnam and Gulf wars and more. The protagonist's wife is one of the 'collaterally' damaged of Columbia. When the shooting begins, she is able to hide and, although she is witness to the terrible sounds of the mass slaughter that surround her, she survives, physically unhurt.But it is the aftermath of the shootings that really inform Lamb's novel; the post-traumatic stress disorder, survivor guilt and the lasting emotional effects the the shootings have on Caelum and his wife Mo. As they lurch from one tragedy to the next in a string of misfortunes Job would have understood, they also encounter the results of tragedy in their contemporaries and in Caelum's gradually unearthed family history. Another review here mentions that the writer has been criticised for his tendency to digress but I didn't find that a problem at all. It is the many digressions and tangents that turn a one-dimensional tale of personal tragedy like The Shack into an all-encompassing world of convincing characters and the tragedies that affect all of society. Not one charcter is without his or her own fascinating and relevant back-story and that is what makes this book such a gloriously 'meaty' read. It's my first book by this author and I can't wait now to read the rest.And, in case you're wondering what Lamb concludes about that 'bad things/good people' question, you'll just have to read the book yourselves, but I can tell you know that his conclusions, while they may probably be interpreted satisfactorily for church-goers and atheists alike, are a very long way from Young's simplistic ideas of that old white man/fat black woman sitting on a cloud.A terrific read and a book I'd highly recommend to almost anyone.
Review by sainsborough
16/06/2015
Yes, this was a good book, but it just didn't do it for me. Perhaps you have to be American to relate to it. I felt I wasn't really learning anything from it, although, by the end, I had probably learnt a bit about post-traumatic stress disorder and a bit about what happens in women's correctional institutions. But how is it that wonderful, absorbing books are written that are not crowded with mass murderers, child abuse, prostitution, substance abuse, fatal car crashes, marital infidelity, suicides, skeletons in closets and so on? And I couldn't keep track of who was who amongst the family members.
Review by deargreenplace
16/06/2015
I'd heard lots of good things about Wally Lamb before getting hold of this book (my bookshop didn't have <strong>I Know This Much Is True</strong> which was the one recommended to me). I began reading on a long flight and couldn't put it down.The book is about a married couple - Caelum and Maureen Quirk - who are working at Columbine High School on 20th April 1999. They've moved to Colorado from Connecticut, where Caelum had assaulted his wife's lover and disgraced himself at the high school where he worked. Colorado is supposed to be a fresh start for their marriage, but the events of 20th April 1999 have a devastating effect on their lives.Maureen is unable to cope after her experience that day, and suffers from post-traumatic stress disorder. Caelum struggles to be strong for her, and the rest of the book details the aftermath of Columbine, and its effect on their relationship with each other, their families, and the people they meet.Lamb is a very good writer, and I found myself sniffling back tears on quite a few occasions while reading this. The Quirks really suffer, and while Lamb doesn't paint Caelum as a particularly sympathetic character at first, you can't help but feel so sorry for him as his life takes one turn for the worse after another. He has no option but to take a good look at himself and his family history on his quest to find peace in his life.There's a lot going on in the plot, which makes it all the more compelling and emotionally affecting. Very good.
Review by Phyllo
16/06/2015
I found this book an easy read. I also thought that the many little sub stories took away from the main theme. I started to lose the main story line. I much prefer generational books to start from the first generation to the present day. I started to forget who was who.
Review by redjanet
16/06/2015
I have very mixed feelings about this book. I think that is mainly because it felt like it was a book within a book and there were so many different strands of the overall story that it felt like almost too much and a little overwhelming. I thought this was going to be a book about the after effects of Columbine on a couple of the characters, but it ended up being so much more than that. That is not necessarily a bad thing and Wally Lamb is clearly a very able writer who is able to hold a story together well so that it pieces all together.I think the main thing I didn't like about the book was the voice of the narrator. I found him irritating, slightly misogynistic and overall, not very likeable. I THINK that was supposed to be on purpose, but it felt very obvious (like, glaring in your face obvious) from the start, that the main character would be going through a big emotional crisis that would make him talk about his feelings and he would hopefully, by the end of the book, be a bit less of a jerk. It all felt a little bit cliched.That said, this was still a good, engrossing read. The characters from the narrator's ancestry came to life so well that I had to Google them for myself to make sure they weren't real! The story was full of surprises and despite my complaints, I would not dismiss any future books from Wally Lamb.