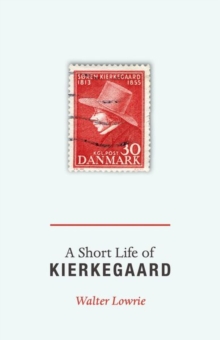 A Short Life of Kierkegaard
Paperback / softback
Description
A small, insignificant-looking intellectual with absurdly long legs, Soren Kierkegaard (1813-1855) was a veritable Hans Christian Andersen caricature of a man.
A strange combination of witty cosmopolite and melancholy introvert, he spent years writing under a series of fantastical pseudonyms, lavishing all the splendor of his magnificent mind on a seldom-appreciative world.
He had a tragic love affair with a young girl, was dominated by an unforgettable Old Testament father, fought a sensational literary duel with a popular satiric magazine, and died in the midst of a violent quarrel with the state church for which he had once studied theology.
Yet this iconoclast produced a number of brilliant books that have profoundly influenced modern thought.
In this classic biography, the celebrated Kierkegaard translator Walter Lowrie presents a charming and warmly appreciative introduction to the life and work of the great Danish writer.
Lowrie tells the story of Kierkegaard's emotionally turbulent life with a keen sense of drama and an acute understanding of how his life shaped his thought. The result is a wonderfully informative and entertaining portrait of one of the most important thinkers of the past two centuries.
This edition also includes Lowrie's wry essay "How Kierkegaard Got into English," which tells the improbable story of how Lowrie became one of Kierkegaard's principal English translators despite not learning Danish until he was in his 60s, as well as a new introduction by Kierkegaard scholar Alastair Hannay.
Information
Format: Paperback / softback
Pages: 320 pages
Publisher: Princeton University Press
Publication Date: 05/05/2013
Category: Phenomenology & Existentialism
ISBN: 9780691157771
Free Home Delivery
on all orders
Pick up orders
from local bookshops